OK, well I guess my title kind of gives away my first impression of the new "incomparable" RCC at ORD. I spent about an hour there yesterday morning, and will share my impressions (along with pictures). To make the page load faster I resized the pictures, so you can find the originals here.
The new RCC is located adjacent to Gate B18, which is just around the corner from where the old "Ted RCC" used to be. The entrance is on the main terminal level, and looks very bare yet nice from the outside. The entrance is all glass, totally see through (unlike other RCC's, which have glass with logos on them so you can't see through), and if I didn't know better I'd say I was entering a hospital or some sterile area.
My impression quickly changed though. There are seven departure and arrival monitors on the main floor, as well as an escalator and elevator which can take you down to the RCC.
A short escalator ride down is the reception desk, which was staffed by two ladies when I was there. There's also a small seating area with eight seats by the elevator, which seem to serve no purpose other than to make the room look less empty. As I entered the ladies asked how I was, and I mentioned my excitement over visiting the "new incomparable Red Carpet Club." They chuckled and said they liked their new crib, and I happily entered.
The lounge starts to the left of the reception desk (when facing it), which is where the main room is. There are several plasma TV's, tons of power outlets, and well designed seating. It wasn't too full when I was there, so I was able to take pictures without getting too many weird looks (not that I really care, I would have done either way).
There's also a snack bar right as you enter, with juice, coffee, and tea.
Continuing down the right side of the lounge is a ramp, which has an area with newspapers and magazines right at the beginning.
A little bit further down are the restrooms, which are much nicer than the ones at other RCC's. That's not to say they're well designed or will last long, but they still have the fresh look to them and don't smell awful.
Continuing down the ramp you get to the other part of the lounge (the lounge is basically "L" shaped), where the bar is located. The bar area is very nice with a plasma TV and plenty of seating.
Further in that direction is much more seating, as well as an area with desk chairs and long tables, with plenty of power outlets. While it lacks privacy, it provides plenty of capacity.
There's another snack area there, which is where the holy soda machine can be found.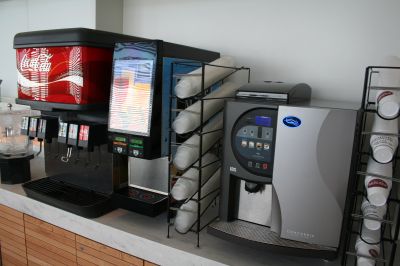 Overall I give this lounge two thumbs up compared to other domestic RCC's. The snack selection was the same garbage as before (the bagels were so hard that they could be used as murder weapons), the lounge looked very modern (I swear IKEA must have had a massive sale), there's plenty of seating, it's practically designed, and most importantly, there are tons of power ports. The lack of power ports in other RCC's drives me absolutely bonkers, so I was ecstatic to finally see an RCC with more than my heart could possibly desire.
So how does this compare? Like I said I think it's probably the best RCC within the US, which isn't saying a lot, but RCC's like the one in Hong Kong are still better by a mile. Kudos to United on this, it's a great improvement.