Air Algerie, the national airline of Algeria, is going on quite a new plane shopping spree. The airline has just placed a significant Airbus wide body aircraft order, complementing a recent order for some Boeing 737 MAXs.
Air Algerie orders seven Airbus wide body aircraft
Air Algerie has announced an order for seven Airbus aircraft, including:
Two Airbus A350-1000s; this is the largest version of the A350, and the plane has the range to fly 8,700 nautical miles
Five Airbus A330-900neos; this is the largest version of the A330, and the plane has the range to fly 7,200 nautical miles
Deliveries of these aircraft are expected for 2025 and beyond, so are only a couple of years away.
For context, Air Algerie's wide body fleet currently consists of eight Airbus A330-200 aircraft, which are an average of 14 years old. So the planes are by no means old, but I suppose if the airline wants to maintain a modern fleet, this is a sensible move.
These aircraft should also lead to significantly lower operating costs, including 25% reduced fuel burn compared to the current long haul fleet. I would assume that the new aircraft will be used primarily to replace existing aircraft, rather than to just expand the fleet altogether. Currently Air Algerie's route network goes as far west as Montreal, and as far east as Beijing.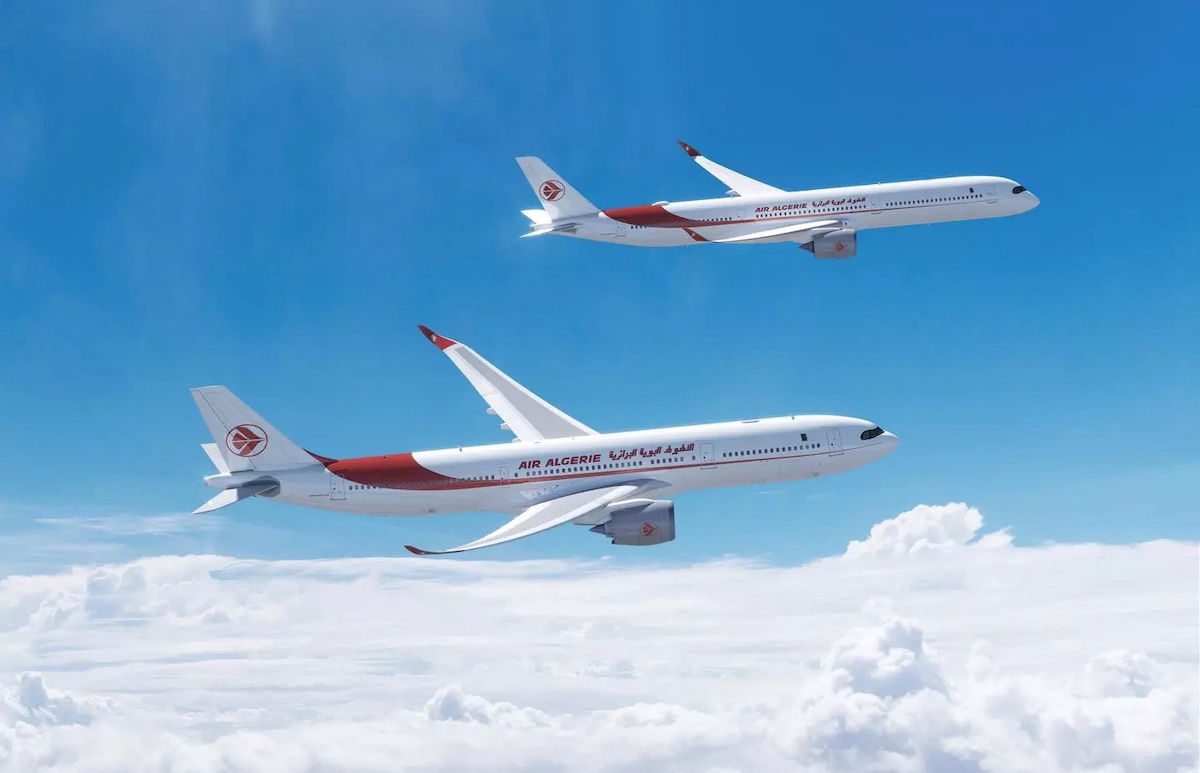 My take on Air Algerie's aircraft order
This is an impressive aircraft order from Air Algerie, and I'm a bit surprised that the airline is going with two wide body aircraft:
The A350-1000 has incredible economics and per passenger costs, but it also seems like quite a big plane for the airline
In terms of fleet commonality and operational efficiency, I'm surprised the airline didn't just order one aircraft type, as having just two A350s is a pretty small subfleet
I've been wanting to fly Air Algerie for years, and now I'll definitely wait until the airline takes delivery of these new jets. Air Algerie's existing A330s already have a solid reverse herringbone business class product, so hopefully that is only improved upon with new aircraft.
It sure would be nice to see Air Algerie form some new partnerships, since the airline currently largely operates in isolation. Air Algerie doesn't belong to any of the global alliances, and has fairly few partnerships aside from interline agreements. It seems like with a bit of effort, the airline could become a better option for those looking to connect through the region.
Bottom line
Air Algerie will be refreshing its long haul fleet, as the airline has ordered two Airbus A350-1000s and five Airbus A330-900neos. The airline currently has a long haul fleet consisting of eight Airbus A330-200s, so that represents quite an upgrade in terms of fuel efficiency, range, and capacity.
I'm excited to see these planes join Air Algerie's fleet, and can't wait to learn more about the interiors!
What do you make of Air Algerie's Airbus aircraft order?