Air France is in the process of refreshing their longhaul fleet, and they're doing a damn good job. Back in February they unveiled their new business class, while in May they unveiled their new first class suite.
To showcase their new products and services, they're holding an Air France Expo in New York, which is pretty awesome. It's open to the public from June 26 through June 28, though on Wednesday (June 25) they had a press conference and "private" Expo.
Air France was kind enough to invite me to the event. It's rare that I attend these press events, since I find that they're more geared towards "traditional" media:
Virtually all the information shared at press conferences is publicly available, so they're generally more of a "spark notes" version of things for the mainstream media.
Maybe I shouldn't say this, but I really get quite frustrated by the arrogance of a lot of the "traditional" media folks. They'll come up to you, ask who you write for, say "oh I've never heard of that," and then tell you who they write for, waiting for you to bow down to them. I've never heard of 90% of the publications they write for, though to be polite and make them feel better I'll say "oh okay, cool." But socially I just find these press events to be kind of awkward, or perhaps just feel like a bit like "Mean Girls" at times.
But really the reason I couldn't resist going is because I freaking love Air France's marketing, and lets be honest, the French don't do anything half a$$ed. Either they go all in or not at all, and when it comes to a chance to show the press how stylish they are, you know they're going all in.
Anyway, the press conference was held at Skylight Modern in New York at 9AM, and registration and breakfast started at 8:30AM.
The press conference was in the basement, and as stylish as you'd expect from Air France.
The event started promptly at 9AM with various uniformed employees walking on stage.
What really amazed me is how many big wigs were in attendance:
Alexandre De Juniac — Chairman and CEO of Air France-KLM
Frederic Gagey — Chairman and CEO of Air France
Edward Bastian — President of Delta Air Lines
Bruno Matheu — Chief Officer of Longhaul Passenger Activity
Alexandre De Juniac kicked off the press conference by explaining a bit about the innovation behind the new product.
Then Edward Bastian of Delta spoke, about how thrilled he is by Delta's partnership with Air France, and continuing to work together (I didn't have a chance to ask him about how he feels about their partnership with Korean Air, on the other hand). 😉
Then Frederic Gagey spoke, basically reiterating what Alexandre De Juniac.
And then Bruno Matheu spoke to dig a bit further into the details of the new product. I love how he said "we serve champagne in all classes, even economy." I was the only person in the audience that clapped. 😉
I loved the marketing videos they showed during the presentation as well.
It started with this one (anyone know the name of the song — I LOVE it):
And then this one of passengers sharing their experiences with the new product:
And then this one about the history of the New York <> Paris route:
I really can't say it enough, I think Air France's marketing is just so gorgeous and brilliant.
Then came the Q&A session — having this many big wigs on stage at a press conference in the US is just awesome. And I really commend them for doing this, since clearly to some degree the executives weren't totally comfortable speaking in English (with the exception of Ed Bastian, of course).
There were some interesting questions. One guy asked what Air France and Delta are doing to develop common service standards across airlines, in terms of food, service, seats, etc.
But quite possibly the most interesting question involved diversity. I was sitting next to my friend Scott Mayerowitz at the press conference (who's my favorite mainstream journalist that covers travel), and he Tweeted the following:
I figured I'd provide the back story on that. A guy that wrote for an LGBT travel magazine asked what Air France is doing to embrace diversity, not just when it comes to gays, but also different cultures.
Ed Bastian of Delta Air Lines clearly understood the question, while the guys from Air France were a bit confused. The Air France CEO began to tell a story about how their inflight entertainment system has a diverse selection of options in many languages, and said that he spoke to a German passenger last week who said he liked Air France service and that they had movies in German.
The guy that asked the question said "with all due respect, that isn't what I was asking," and tried to clarify the question. They then proceeded to explain that they have special meals for a diverse group of people, and somehow the conversation advanced into explaining that many passengers on their flights from China have never used a fork and knife before.
I only mention this because:
It was hilarious
It totally wasn't intended the way it came across, but it's something that was clearly just lost in translation
The fact that this question wasn't understood actually shows how much more diversity is embraced and how much further gay rights are in Europe than in the US — it's not a question that has to be asked there, because they're way ahead of the US in that regard
Anyway, after the press conference we were driven to Center548, where the three day Expo takes place. The venue was awesome — we had to take a freight elevator to get up to the exhibit.
Before we could actually access the exhibit, there was a reception and ribbon cutting ceremony.
They really went all out. There must have been well over a dozen servers, and they were attentive with making sure champagne glasses were always topped off.
We were given press kits and gift bags courtesy of Clarins.
On the side of the rooftop was what looked like a ribbon holding ceremony.
But after about 30 minutes it turned into a ribbon cutting ceremony. I have to give credit to all the Air France executives. They were incredibly humble, approachable, and friendly.
And then it was time to visit the Expo, which was just just totally over the top and impressive. Of course there was a lot of "fluff" which was interesting to look at, but probably less interesting to share here, so I'll just include a few pictures of it.
The most fun "fluff" had to be the adult swing they had, whereby with each swing you would "land" in a different city, be it New York, Paris, or Shanghai.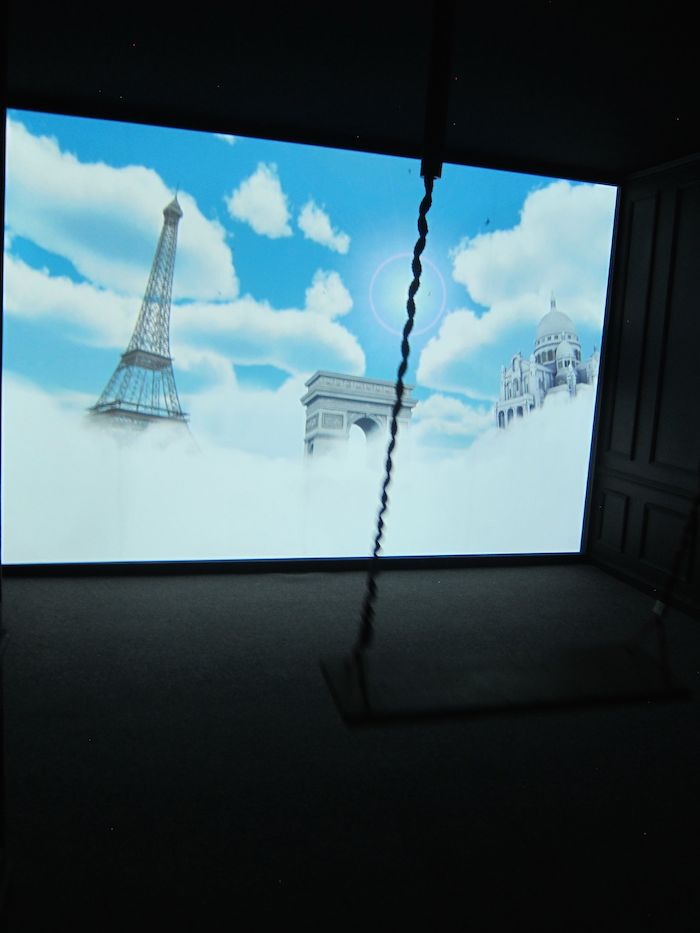 What I really wanted to see were the seats. They had the new economy class seats on display, which are apparently more comfortable.
Then they had the premium economy seats on display.
And then the premium cabins, which they just marketed beautifully, partly by having a "dining room" to simulate what it would be like to eat on an Air France plane. Heh.
The business class product is really solid. It's a reverse herringbone seat, much like what you'd find on American, Cathay Pacific, EVA Air, etc. I didn't notice any major differences in terms of design, though the finishes were a bit different, and I thought much nicer than what some other airlines have.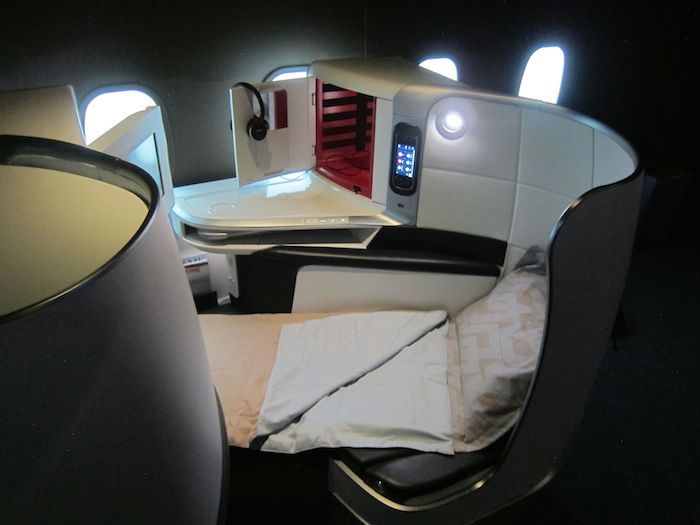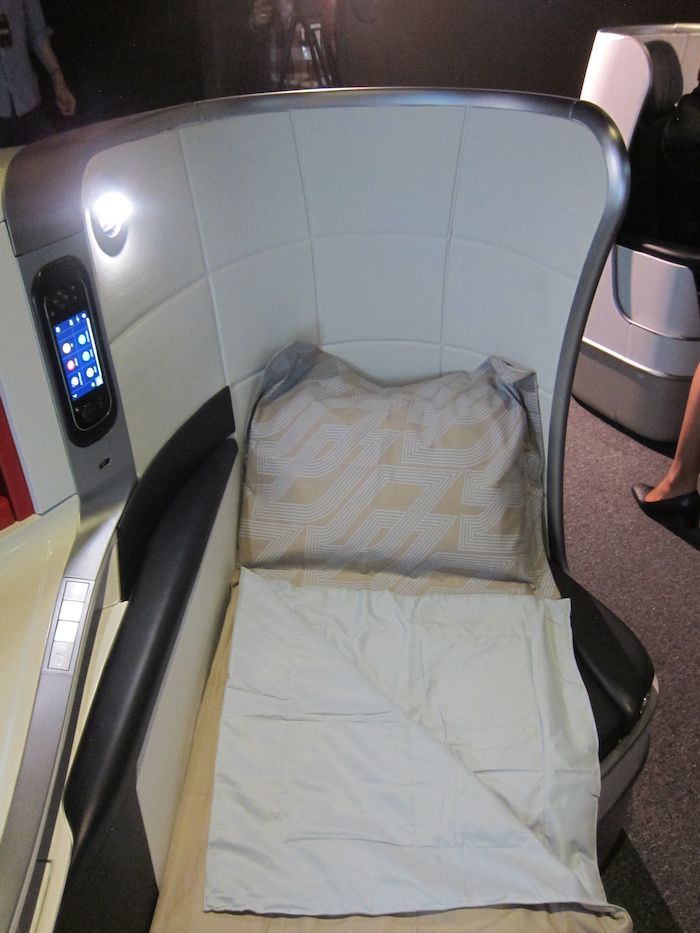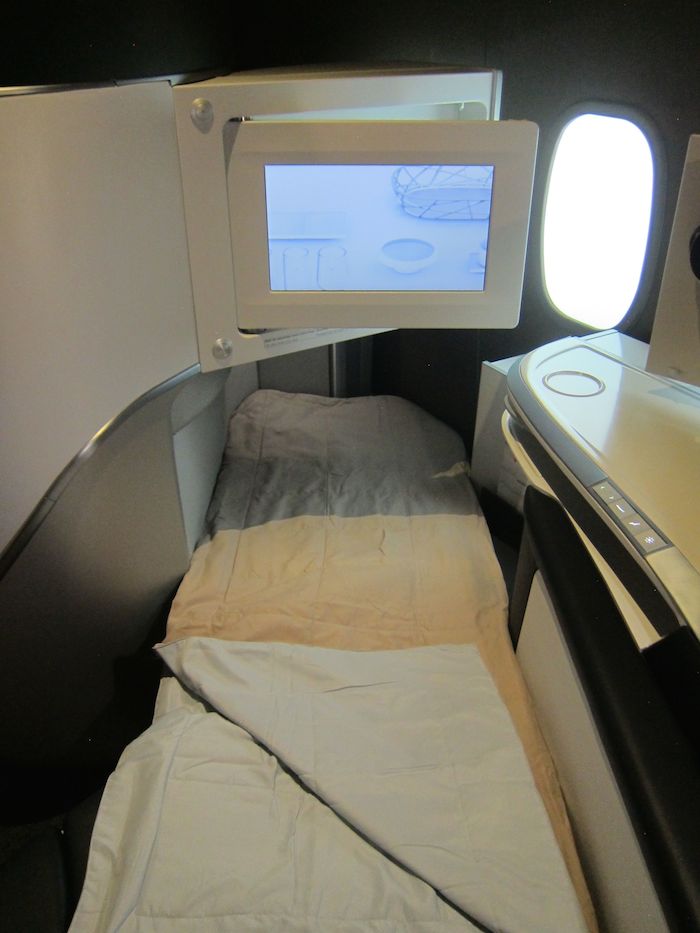 And then it was time to see the new first class La Premiere suite, which was gorgeous. The seat is so simple yet elegant, and I love that. The fact that the seat has curtains makes it the first of its kind, and I think it's a really unique alternative to having a seat with a door.
I was extremely pleasantly surprised by my Air France A380 first class flight late last year, and especially by Air France's first class lounge in Paris.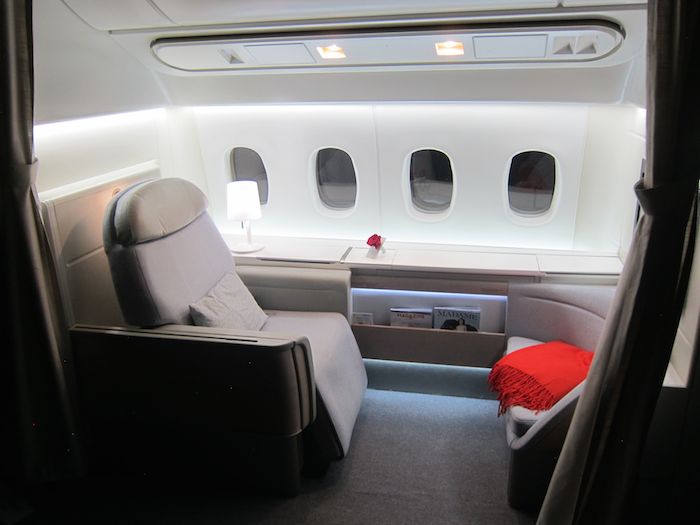 Other interesting facts from Air France press conference
Some other things I picked up during the press conference:
Air France is investing 500 million Euros in their new cabins, and KLM is investing 200 million Euros in their new cabins
By the summer of 2017 Air France's new cabins should be available throughout their longhaul fleet, including on their A380s
Air France hopes to be one of the world's three best airlines by 2016 (though they didn't make clear which metrics they'd use)
The new business class product is available between New York JFK and Paris on AF8/9 since June 24, 2014
Air France's 777s are 1,000 pounds lighter after the reconfiguration (interesting but not really useful)
Air France is installing a total of 10,000 new economy class seats, 1,100 new premium economy seats, and 2,102 new business class seats throughout their fleet
By the end of 2014 the new cabins will be available to Singapore, Jakarta, Tokyo-Haneda, Houston, and Shanghai
In early 2015 the new cabins will be available to Douala, Dubai, and Sao Paulo
This summer KLM is offering its new business class on 22 Boeing 747 aircraft, and by September 2015 all Boeing 777 aircraft will have the new products as well
Bottom line
Air France's new premium cabin products make them extremely competitive, and I can't wait to try them out. With their business class product I do think they're doing more "catching up" than innovating, while I think their first class product is incredibly innovative, simple as it may be.
What do you think of Air France's new cabins, and did you have a chance to check out their New York Expo?