At OMAAT, we feature news articles about premium economy products that we think may be of interest to readers, such as the incredibly bad breakfast British Airways served on a flight from Tampa to London, and what United Airlines' new premium economy product means for upgrades.
Several readers have recently asked OMAAT to review premium economy flights, and these are requests we have had before.
I had a few ideas about why there were not many 'Y+' reviews already, but I've since discussed this more with Ben and Tiffany to fully understand the reasoning, and it's fair that we explain this to you guys as well.
So in no particular order:
Many of the best airline loyalty programs do not allow premium economy redemptions
Regular readers of the site will have observed that we tend to focus on the loyalty programs that provide some of the best ways to earn and redeem miles. Many of these programs do not allow redemptions for premium economy flights.
This is often because the airline does not have a premium economy product themselves, and therefore doesn't consider it to be a standard redemption product on partner airlines.
Where OMAAT reviews flights, we want to tell you the best ways to book these flights using miles, which won't be possible for premium economy flights in many programs.
There is far less differentiation between premium economy products compared to business and first class products
In both business and first class there are huge differences between airlines, and there can even be big differences between products or planes within the same airline.
Just in business class, for example, some airlines offer dine on demand, some have suites with sliding doors, and some have on board bars, while others have middle seats in business class, and angled flat seats with no privacy that are difficult to sleep on.
Then in first class some airlines have on board showers, while others offer double beds. Some serve caviar, some don't. So we think there's enormous benefit in showing you which carriers have the best business and first class products, and even which planes/routes/products are the best for each airline.
So there are some fantastic products to redeem miles for, and some that should really be avoided.
Meanwhile most premium economy products are fairly similar between airlines. Sure some are better than others, but there's not a huge differentiation between the best and the worst.
Most premium economy seats, regardless of the airline, have either 2-3-2 or 2-4-2 seating, 38 – 42″ pitch, 18 – 20″ seat width, and a meal that looks fairly similar to an economy meal that may be served with better crockery and cutlery (i.e. china/metal).
It's not usually the best use of miles
When placing a value on the miles you redeem, we always recommend trying to get the maximum value possible. This is usually achieved by redeeming them for the most expensive/valuable product you can, using the least amount of miles.
Let's use a Singapore Airlines KrisFlyer redemption as an example, as KrisFlyer is a program that does allow premium economy redemptions.
And let's compare it to a Singapore Airlines flight that features economy, premium economy as well as business and first class. I've picked Los Angeles to Tokyo — the Boeing 777 service via Tokyo Narita, as the direct A350 service does not feature first class.
Picking a date in a few months time, for a return flight, the revenue fares for this flight are:
Economy: US$807
Premium Economy: $1,450
Business Class: $4,500
First Class: $12,500
The premium economy ticket price is much closer to the economy price than the business class price, to reflect the fact that it is premium economy, not business light, so the experience will be much closer to economy than business class.
To compare, here are the corresponding cost to use KrisFlyer miles to book these same return flights:
Economy: 76,000 miles
Premium Economy: 130,000 miles
Business Class: 176,000 miles
First Class: 236,000 miles
So looking at the value you would roughly receive from redeeming KrisFlyer miles for these flights:
Economy: 1.0 cpm
Premium Economy: 1.1 cpm
Business Class: 2.5 cpm
First Class: 5.2 cpm
There would be some fees and taxes payable for redemptions at each level, but you can see you get much better value redeeming miles for business or first class, rather than premium economy.
And if you value your KrisFlyer miles at, say, 1.5 cpm, if you are redeeming them for economy (or premium economy) you are receiving less than they are worth, whereas business or first class redemptions will give you more value than the miles are worth.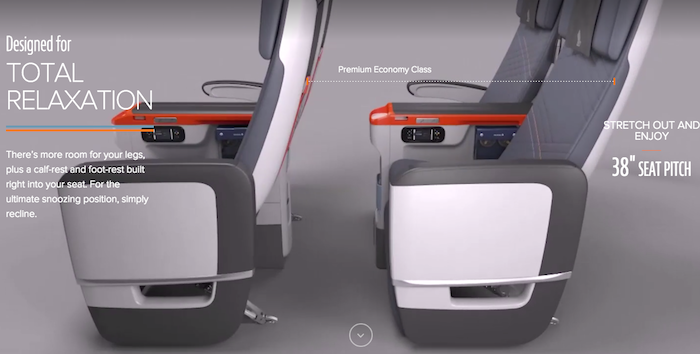 "Isn't business class a poor use of miles compared to first class?"
Based on the above, you might say 'well then isn't business class a poor use of miles compared to first class?'
Not usually.
There are a few reasons that business class is often the sweet spot in many programs award charts.
First of all, many airlines either no longer have first class, don't have it on all planes, or don't release any award seats. This can mean that first class is sometimes either impossible to redeem miles for, or greatly limits your destination options. Looking at the KrisFlyer example above, it's my experience that it's usually much easier to redeem for business class than first class on Singapore Airlines.
Second of all, there have been more innovations in business class in the last few years (private suites, on board bars, all aisle access) that the gap between the business and first class experience has narrowed significantly on many airlines.
This has also led to some airlines either reducing or removing first class altogether, as there's little they can offer above their rapidly improving business classes to justify passengers paying the extra expense for first class (in miles or cash).
For example, I would actually choose a Qatar Airways QSuite seat over their A380 first class and keep the additional miles. Both are excellent products, but their first class would not be sufficiently better to warrant the extra miles cost.
It's not really aspirational travel
I love reading reviews of airlines and new (or obscure!) products I've never flown before. That's what brought me to OMAAT as a reader so many years ago and they're still my favourite thing to read on the site.
Some of these make me really want to fly them (I sought out an Oman Air business class flight recently just to try their famous Apex Suite). Where airlines have different types of seats or products in their fleet I want to fly their best product and hope you do too.
Of course nobody needs a shower on a plane. But who wouldn't want to have one given the opportunity?!
But how do you know what the best product is? Reading reviews of them in advance of booking your flights is a great way to do it.
If I'm using my miles I want the best experience I can get.
Premium economy, on the other hand, is a more comfortable and pleasant way to travel than economy for sure, but not something many OMAAT readers would aim at for their 'trip of a lifetime.' Ben would rather tell you the 10 best business or first class seats to choose the best for your dream redemption than the same for premium economy, as we feel that has less value for you.
Of course everyone uses their miles in different ways, but a key focus of OMAAT has always been luxury travel for pennies on the dollar.
Bottom line
We know some of you have asked OMAAT to do more premium economy reviews.
We are not saying there won't be any — Ben recently flew Norwegian Premium, noting this is the premium product of a low cost carrier which would be a bit different to the premium economy of a legacy carrier — but right now they will not feature as regularly as business and first class reviews, which we feel are of the most interest and value to you guys.
The reasons above are similar to the OMAAT approach to hotel reviews — we think there is more value for readers in reviewing luxury, aspirational properties like St. Regis or Park Hyatts, rather than dozens of reviews of Holiday Inns or Clarion Suites.
Everyone has different uses for their miles — ultimately whatever use you are happy with to reach your travel goals is the best use for you. These uses vary hugely between readers so it's impossible to cover everything.
So instead, the reviews are mainly focused on luxury, aspirational travel, as we think this is a great use of miles.
As a reminder, Ben has explained the value of having a single voice reviewing almost all flights on this site:
What do I think sets my reviews apart? The fact that you're getting almost all reviews written by the same person. There are some sites that have a similar number of reviews to what I've written, but they've been written by dozens of writers. While those are useful individually, to me that doesn't do a whole lot when it comes to the comparative quality of products. I think there's a lot of value in reviewing products side-by-side.
I hope this all makes sense — if you think there's anything we've missed by all means let us know in the comments below.