In the interest of full disclosure, One Mile at a Time earns a referral bonus for purchases made through some of the below links. These are products and services we use ourselves and are the best offers we know of. Check out our
Advertising Policy
for further details. Thanks for your support!
Rakuten is offering an excellent bonus for new members who are referred by existing members:
If you refer a friend to Rakuten and they spend $30, then both the person referring and the person being referred receive $30
In order to be eligible, the person being referred needs to make a purchase within 90 days
In this post I wanted to highlight the easiest way to take advantage of this offer, as it's an option that a lot of people overlook.
Easiest way to make a Rakuten purchase
Rakuten is an online shopping portal that partners with hundreds of retailers, offering cash back or bonus points for purchases you'd make anyway.
Getting $30 back on a $30 purchase is awesome, though I get that a lot of people might be thinking "well I can't think of anything I need to buy right now that costs around $30."
In this post I wanted to highlight the easiest way to earn this bonus — buy a $30 gift card and you'll get $30 back. Below I'll outline the process, for anyone who may not be a Rakuten member yet.
Step 1: Sign-up for a Rakuten account
The first step is to sign up for a Rakuten account through a refer a friend link. You can sign-up through my link (thanks for your support!), or others are free to leave their links in the comments section.
The process of signing up should only take a couple of minutes.

Once you've signed up for your account you can choose to select Amex Membership Rewards points rather than cash back as your earnings preference. Note that this change won't apply to the sign-up bonus, but will apply to everything else. See this post for details on how to do that.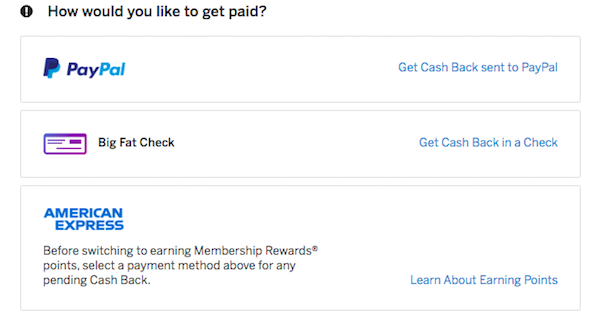 Step 2: Buy a $30 gift card
While logged into your Rakuten account, you'll need to make an eligible purchase. There are several websites dedicated to selling gift cards that partner with Rakuten, including raise.com, giftcards.com, and giftcardmall.com.
You'll want to buy a gift card specifically through one of these websites because the terms allow you to earn credit for gift card purchases, which isn't the case when buying gift cards through many of their retail partners.
I've had issues with raise.com (they often cancel orders, for whatever reason), but giftcards.com works fine, in my experience.
So enter giftcards.com in the search bar at the top of Rakuten's website.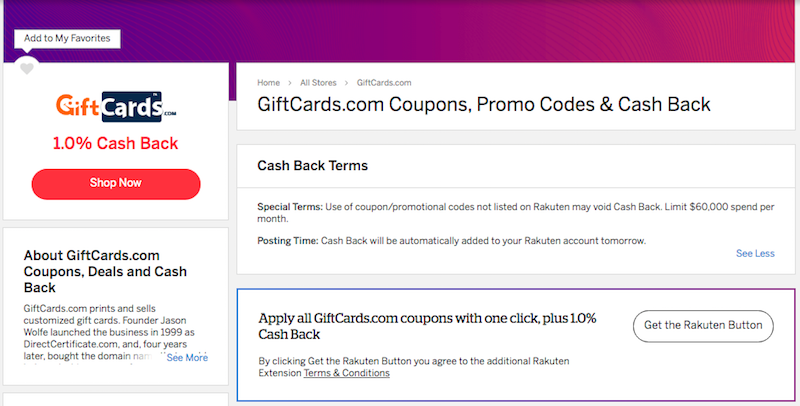 Then click the "Shop Now" button, which will take you to giftcards.com. All your purchases while on that site will automatically be tracked.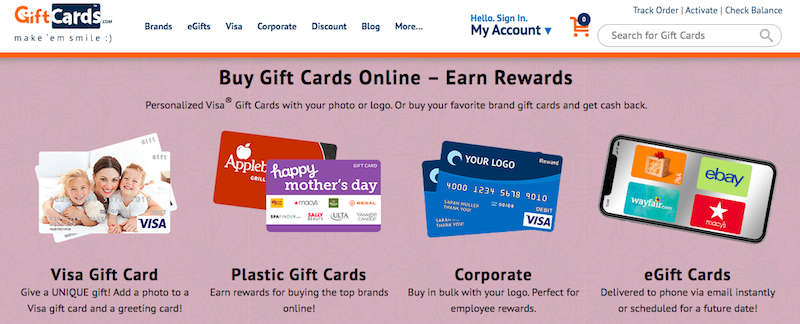 They sell a variety of gift cards with popular retailers, ranging from DoorDash to Airbnb to Hulu to Dominos to Uber to Netflix.
For example, you could buy a $30 DoorDash gift card at face value, and the code will be delivered by email within minutes.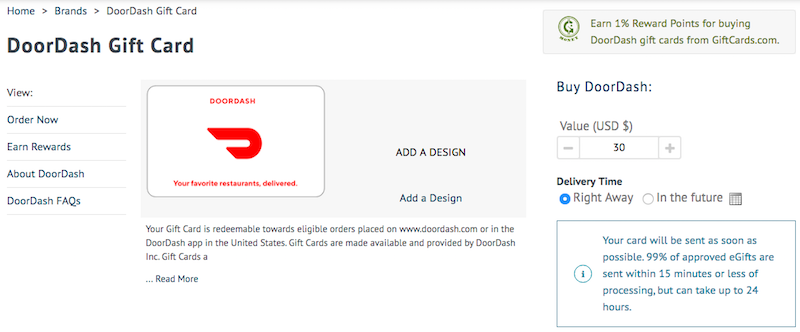 Step 3: Wait for your credit to post
Once the purchase is complete, you should see Rakuten automatically tracking the purchase.

Within an hour the purchase should be fully reflected — the Rakuten account will show a $30 credit (the sign-up bonus), plus 30 Membership Rewards points (since the earnings preference had been changed to points, and you get 1% back on giftcards.com purchases, equal to 30 Membership Rewards points).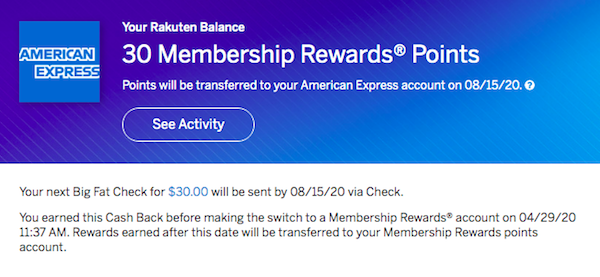 The one major catch here is the delayed payment period. You'll only be paid once quarterly, and there's a cutoff for payments.
Is this really worth it?
Essentially new Rakuten members will get $30 cash in over three months if they spend $30 now. Based on that, I'd say:
This is a great deal and no brainer if you were going to spend $30 with a merchant that you could buy a $30 gift card from anyway; if you're going to spend $30 with DoorDash anyway, why not earn $30 in cash back a few months down the road in the process?
This could be especially lucrative if you can refer a friend or family member, since between the two of you you'll be getting $60 in value (or potentially $30 and 3,000 Amex points, which is even better)
Bottom line
Rakuten is offering $30 to both the person referring and the person being referred through the refer-a-friend program. I'm a huge fan of Rakuten in general, and there's lots of value to be had here.
If you're looking for the easiest way to complete this offer, purchase a $30 gift card to a retailer of your choice through giftcards.com. You'll then get $30 in cash with your next payout.
If you would have spent money with a retailer anyway and aren't yet a Rakuten member, then this is a no-brainer. Best of all, it'll get you into the habit of using Rakuten, and earning rewards for all your online purchases.