Back in the day I used to fly Cathay Pacific first class so much that it almost became my second home. But lately I've been trying to avoid them a bit for a couple of reasons:
They don't have wifi, which is both a blessing and a curse (perhaps slightly more of a curse on 16+ hour flights)
I've flown them so often and wanted to try more airlines
My last Cathay Pacific first class flight was from New York to Vancouver last March, and prior to that I flew them from Chicago to Hong Kong the previous June.
But I think I've sort of discovered the reason I've avoided flying Cathay Pacific, which is both the reason I love them and the reason I hate them. Cathay Pacific is so, so, so consistent. Like, creepily so.
When you fly Singapore Airlines, for example, the flight could be a "supper" flight, which has a really lackluster meal service, or it could be a "lunch/dinner" flight, which has an amazing meal service.
When you fly Lufthansa you could get their new 747-400 first class product, or you could get their old A330 first class product, which is probably two decades past its prime.
When you fly Etihad you could have an amazing flight with a top notch onboard chef, or they could run out of food halfway through the flight.
But Cathay Pacific offers what's possibly the most well rounded and consistent first class product. I don't think they're the best airline in any single way, but instead they're possibly the best all around.
I flew Cathay Pacific first class from Chicago to Hong Kong on Friday, which had a flight time of 16h15min. And I enjoyed every minute of it.

Airshow between Chicago and Hong Kong
Why is Cathay Pacific so consistent?

Cathay Pacific 777-300ER at Chicago O'Hare Airport
Cathay Pacific first class seat
Now that Cathay Pacific has just about retired all their 747s, there's primarily just one aircraft type with first class, which is the 777-300ER.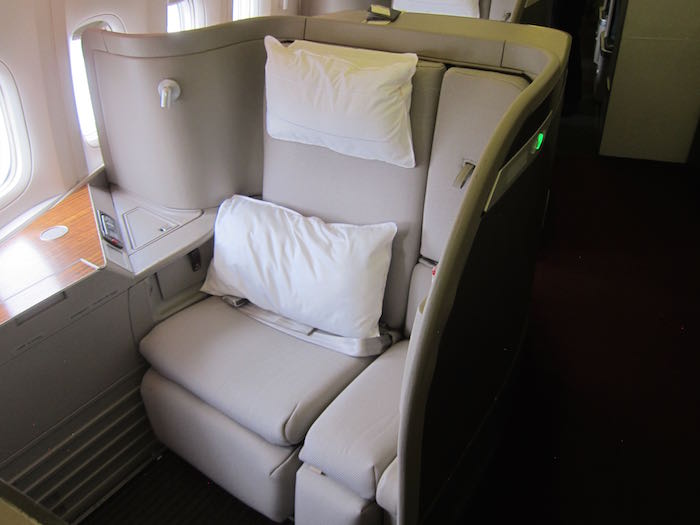 Cathay Pacific first class, seat 1K

Cathay Pacific first class, seat 1K
The first class cabin consists of just six seats, in a 1-1-1 configuration. You can't beat the spaciousness of the layout. While the cabin doesn't consist of fully enclosed suites, I think they're actually better. They're private without being claustrophobic.

Cathay Pacific 777 first class cabin

And the bed is possibly the most comfortable in the sky. It's huge and features amazingly plush bedding. It's like sleeping in a real bed.

Cathay Pacific first class bed
The hard product is absolutely fabulous, and that's despite the fact that it has been around for eons now.
Cathay Pacific first class amenities
Cathay Pacific has among my favorite amenities of any airline — great PYE pajamas (not quite as Emperor-looking as the old Shanghai Tangs, but…), an Aesop amenity kit, Bose headphones, durable slippers, etc.

Cathay Pacific first class PYE pajamas

Cathay Pacific first class Aesop amenity kit


Cathay Pacific first class Bose headphones
Cathay Pacific first class service
I love Cathay Pacific crews. They're consistently charming, friendly, and attentive. That being said, it's important to understand Cathay Pacific's first class service philosophy, which couldn't be more of a polar opposite from Singapore's philosophy. In the past I explained it as follows:
The service on Cathay Pacific is consistently top notch if you understand how it works. It's not Singapore Airlines where the cabin crew are supposed to walk through the cabin every five minutes throughout a 15 hour flight to see if you might want something, but rather between the meal services they leave you alone to maximize your privacy, and if you need something you push the call button. And when you do push the call button, they're at your seat within a matter of seconds.
So you have to know to push the call button between meals, and when you do they consistently show up within seconds.
Cathay Pacific first class food
Cathay Pacific's meal service is consistent to a fault. The good news is that they serve the same main meal regardless of whether you leave at 1PM or 1AM, so it's not like Singapore Airlines where you get a watered down meal service on a late night departure.
I think Cathay Pacific's first class food is perhaps the weakest point of the experience, even though it's still quite good.
They have caviar, which is awesome and gorgeously presented (though I do miss their old meal setup, whereby they also served salmon with the caviar).

Cathay Pacific first class starter
Then they usually have a soup and salad, which are both very good. I usually don't love their mains, though. They have two western options (either a massive chewy steak or what tastes like microwaved pasta) and then some Chinese options, which consistently feature fatty meat (I realize that's by design for Chinese food, though I prefer leaner meat).

Cathay Pacific first class main course

The desserts are usually fairly good, though I'm not sure I get the foil tin in the presentation…

Cathay Pacific first class dessert
But the food service is very good, and they do serve Krug, which is my favorite champagne.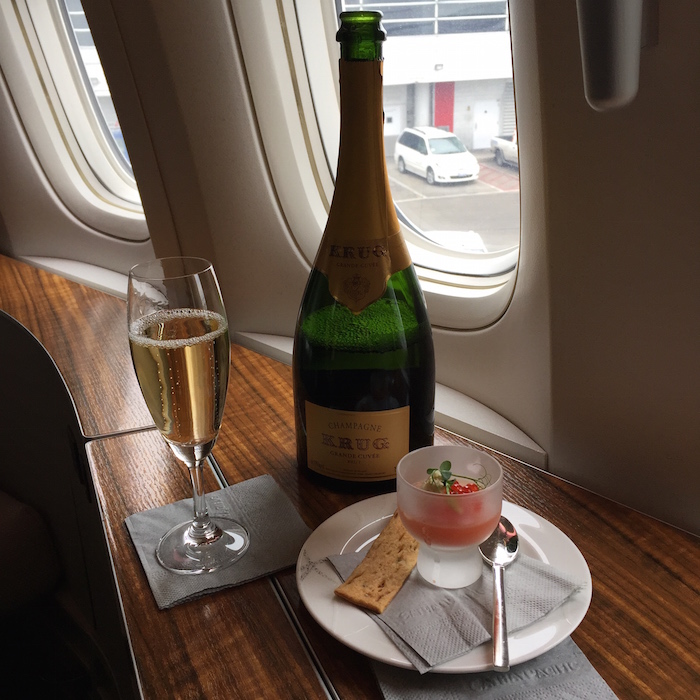 Cathay Pacific first class Krug
That being said, they had only catered three bottles and there were four of us in first class (all on AAdvantage redemptions — profitable flight for Cathay, clearly!), so that lasted us for all of a few hours.
Cathay Pacific first class entertainment
The StudioCX entertainment selection is top notch. They actually had episodes of 2 Broke Girls that I hadn't yet seen, which is a first.
Bottom line
I love Cathay Pacific first class! I've never had anything even approaching a bad flight on them. Are there areas where they could improve? Absolutely. But all things considered, I think they do offer one of the most well rounded first class product out there.
If you've flown Cathay Pacific first class, what was your experience like?