Fifth freedom flights have always interested me, and I've made a point to fly as many of these flights as possible over the past several years.
Some have been interesting, like flying New York to Frankfurt on Singapore Airlines with the "First Lady" of Zimbabwe. Others have been terrifying… you may recall my experience on Royal Jordanian from Bangkok to Hong Kong.
What's a "fifth freedom" flight?
A "fifth freedom" flight is one where an airline from one country has the right to fly between two different countries. An example of this is India's Jet Airways, which operates fifth freedom flights between Toronto and Brussels.
These aren't to be confused with "second freedom" flights, which allow an airline the right to stop for maintenance or fuel without disembarking passengers or cargo.
An example of this would be Ethiopian Airlines' Addis Ababa to Washington Dulles flight, which makes a refueling stop in Rome where passengers and cargo don't get off the aircraft. Oddly enough, there's an Ethiopian Airlines flight to Rome departing about 90 minutes after the Washington flight. You'd think they could acquire fifth freedom rights and optimize their schedule on that one.

Jet Airways A330 in Toronto

Why should you care?
Because fifth freedom routes are awesome! They allow you to try different airlines than you normally might, and they often operate an aircraft nicer than what usually serves a market.
Flying Manchester to Munich? Singapore Airlines operates a 777-300ER on the route, which features their fantastic first class and business class products. Definitely preferable to flying Lufthansa's intra-Europe business class, which is just economy seating with the middle blocked.
Amol at HackMyTrip wrote an interesting post about fifth freedom routes in 2012, which includes a comprehensive list if you're interested.
Some useful fifth freedom routes 
While Qatar Airways' flight between Baku and Tbilisi might not be my idea of a useful fifth freedom route, some make for good award redemptions. Keep in mind this is all totally subjective. 😉
Cathay Pacific: New York to Vancouver
I most recently took this flight in March, and it's hands down my favorite way to get between coasts. It's part of a New York to Hong Kong flight that stops in Vancouver.
The flight may be timed terribly (it's a redeye in both directions), but no other North American route offers you Krug as a pre-departure beverage in first class. First class passengers departing JFK also get access to BA's pre-flight dining, for what it's worth.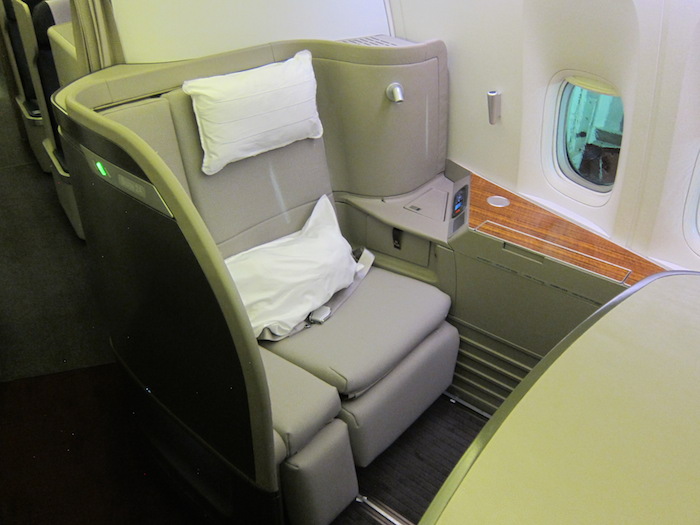 Cathay Pacific first class 777-300ER

Business class is still a great value, with reverse herringbone seats that are slightly nicer than what American offers as first class on their A321T aircraft.
First class can be booked for (one-way):
32,500 AAdvantage miles + taxes/fees
37,500 British Airways Avios + taxes/surcharges/fees
35,000 Alaska Mileage Plan miles + taxes/fees
Business class can be booked for (one-way):
25,000 AAdvantage miles + taxes/fees
25,000 British Airways Avios + taxes/surcharges/fees
25,000 Alaska Mileage Plan miles + taxes/fees
Korean Air: Los Angeles to Sao Paulo
Getting between the US and Brazil is pretty tough on award tickets, especially in first class. With TAM removing first class, only American, Korean Air, and United offer first class products between the US and Brazil. United rarely has saver award space, and American almost never does, even if a cabin is entirely empty.
Korean Air first class is quite a step ahead of American or United, and they release a ton of first class award space on the route. Business class award space on the route is rather hard to come by.
It's a great use of Chase Ultimate Rewards, as SkyPass is a transfer partner. I wrote about booking SkyPass awards and I reviewed this flight back in April.
First class can be booked for (one-way):

70,000 Korean Air SkyPass miles + taxes/surcharges
Korean Air offers the nicest product to Brazil from the US.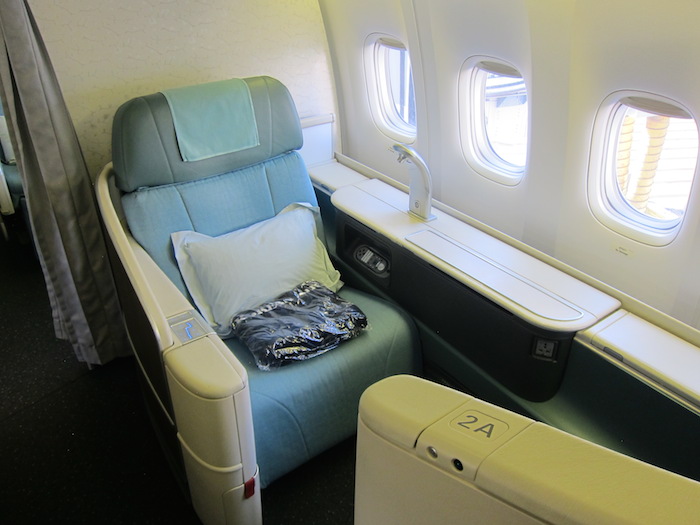 Korean Air first class 777-300ER

Singapore Airlines: New York to Frankfurt
Singapore has five fifth freedom routes from North America that originate and terminate in Singapore. These include:
While Singapore's KrisFlyer program isn't especially lucrative for long-haul Star Alliance awards, you pay a much lower rate for redemptions purely on Singapore Airlines vs. on partner carriers.
Once you factor in the 15% discount that KrisFlyer provides for booking awards online, you can book Singapore Suites for only 57,375 KrisFlyer miles on New York to Frankfurt. You're booking the transatlantic leg of SQ25 (SIN-FRA-JFK) or SQ26 (JFK-FRA-SIN), which often has saver award space on the shorter leg.
What was recently written about as unattainable really isn't, especially when you consider this costs fewer American Express Membership Rewards or Chase Ultimate Rewards points than a "traditional" business class award redemption to Europe (United, I'm looking at you). It's important to keep in mind that you can only book long-haul premium cabin awards on Singapore through their own program.
Suites Class can be booked for (one-way):

57,375 KrisFlyer miles + taxes/surcharges 

Singapore Suites Class A380

Business class can be booked for (one-way):
48,875 KrisFlyer miles + taxes/surcharges

Singapore business class A380

Both American Express Membership Rewards and Chase Ultimate Rewards points transfer to Singapore Airlines KrisFlyer at a 1:1 ratio. The transfers aren't instant but are relatively fast — I've found them to process in under a day coming from both programs.
Air France: Los Angeles to Papeete
My favorite part about booking awards on these flights is hearing Delta reservation agents pronounce Papeete as "Pop-eat." 😀
While it's not a stunning product (it has angled flat seats), it's a great way of getting between North America and Tahiti. No airline offers fully lie-flat seats on the route, and it's a market with limited service.
I find that award space comes and goes on this route. Sometimes I can find a decent amount of space, and other times I can count on one hand the number of award seats found through an entire schedule.
Business class can be booked for (one-way):
60,000 Alaska Mileage Plan miles + taxes/fees
75,000 Air France Flying Blue miles + taxes/surcharges
80,000 Delta SkyMiles + taxes (one-way awards starting January 1st, 2015)
Booking through Alaska is definitely the best value on this route. Theoretically it only costs 50,000 Starpoints for a one-way award redemption when you factor in the 5,000 mile bonus for every 20,000 transferred points.
American Express Membership Rewards points transfer instantly at a 1:1 ratio to Air France Flying Blue and to Delta SkyMiles. Starting on January 1,2015, Delta will be limiting Membership Rewards transfers to 250,000 points per calendar year, which is something to keep in mind.
Air France limits Flying Blue redemptions to 10 months prior to departure, whereas Alaska and Delta both have access to Air France space ~11 months out. You're going to get better access to award space through a partner program, which is opposite of the trends we've been seeing lately. Close in, Air France tends to provide more award seats to their own members though.

Air France first class A380

LAN Chile: Auckland to Sydney
While there's plenty of award space on Qantas between Auckland and Sydney, I find this super fascinating. It's part of LAN's Santiago to Sydney service, which stops in Auckland, and there's a good amount of award space on the tag flight.
There may not be anything too interesting about this route, but when you can fly an A340 with lie flat seats in business class vs. a Qantas 737, it's a pretty good deal. Keep in mind that Air New Zealand doesn't release much business class award space to partner programs anymore, so your only other option with a lie-flat seat is on Emirates, which also serves this route using an A380.
Business class can be booked for (one-way):
17,500 American AAdvantage miles + taxes/fees
20,000 British Airways Avios + taxes
On that note, I'd also like to point out LAN Chile's 787 service between Madrid and Frankfurt. It's part of a direct flight from Santiago to Frankfurt, but you can book just the Madrid to Frankfurt portion. Considering the domestic equipment that operates that route on Iberia or Lufthansa, I'd much rather take LAN's 787 with fully flat seats in business class.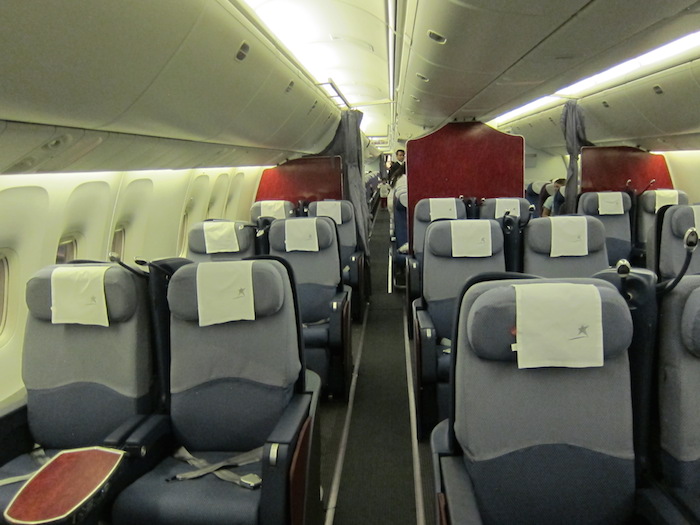 LAN business class 767

Ethiopian Airlines: Los Angeles to Dublin
As I wrote about earlier this month, Ethiopian Airlines is starting service between Los Angeles and Dublin in June 2015.
Why is this important? It's the only Star Alliance business award space from the West Coast to Europe consistently available in advance. It's also the first transatlantic 787 service from Los Angeles and a new airline for LAX.
While award space isn't as plentiful as it was when the flight loaded, I do want to try this service in at least one direction, if for no reason other than the novelty of it. Besides, who doesn't want to say they flew Ethiopian Airlines for their summer trip to Europe? 😉
Business class can be booked for (one-way):
70,000 United MileagePlus miles + taxes/fees
45,000 Aeroplan miles + taxes (no surcharges on Ethiopian)
63,000 LifeMiles + taxes
American Express Membership Rewards points transfer to Aeroplan at a 1:1 ratio. This is most likely how I'll book this for myself.

Ethiopian Airlines award space bookable through Aeroplan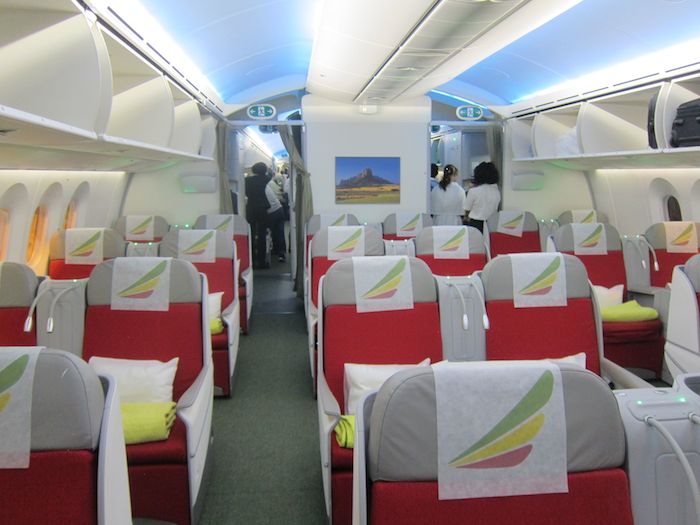 Ethiopian business class 787

Bottom line
I know there are plenty more useful fifth freedom routes out there, and many others are attainable on miles, but these are some of my favorites.
There's something so exciting about seeing an Ethiopian Airlines flight on the departures board in Bangkok headed to Kuala Lumpur. I always wonder who the passengers are on those flights, how the crews feel about operating those flights, where they layover, etc.
And if nothing else it adds a bit of flair to markets that might not otherwise be all that exciting.
Have you flown any fifth freedom routes? What are your favorites?