Historically Virgin Atlantic's Flying Club program hasn't been especially generous when it comes to status matches. At the end of last year they announced some major changes to the program, and now they're also offering some pretty aggressive status matches, which suggests to me that their elite target numbers might not be quite where they had hoped.
At the moment Virgin Atlantic is offering status matches to both their Silver and Gold tiers to members of American AAdvantage, British Airways Executive Club, Cathay Pacific Marco Polo Club, Emirates Skywards, Etihad Guest, Jet Airways JetPrivileges, South African Airways Voyager, and United MileagePlus.
Below is a chart that shows what status they'll match to Gold (top tier) and what status they'll match to Silver (second tier):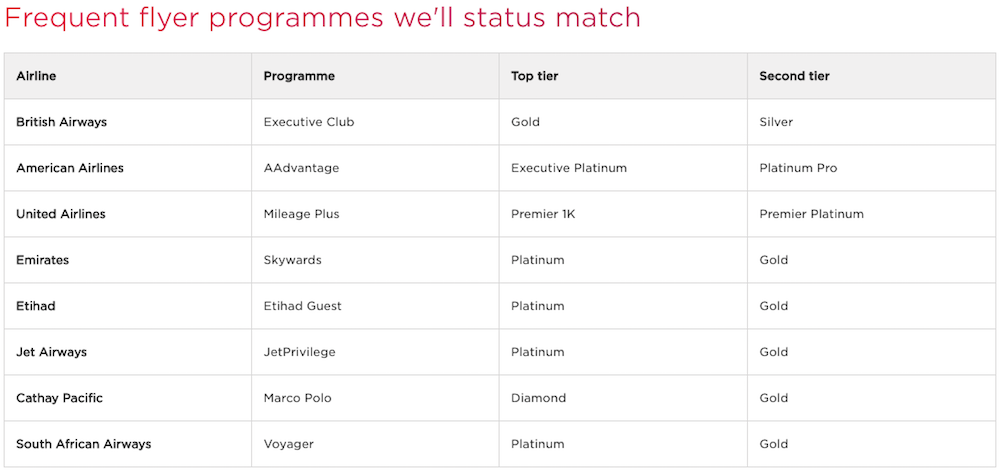 If you want to take advantage of this promotion, you'll have to email [email protected] with the following details:
Your other airline's frequent flyer programme statement, showing routes you've travelled and tier points
Your Virgin Atlantic Flying Club membership number (if you have one already)
Details of your future Virgin Atlantic booking
It's interesting that Virgin Atlantic asks to see the routes you've traveled and details of future Virgin Atlantic bookings. The terms of the promotion don't indicate a requirement to have any travel booked on Virgin Atlantic, so I'm not sure if they're asking out of curiosity, or if it's actually a requirement.
The status match will be valid for 12 months from when your account is upgraded. If you want to requalify for status, you'll need the standard 400 tier points for Silver or 1,000 tier points for Gold.
So, what can you expect in terms of elite benefits? You can find the full Flying Club Silver benefits here, and the full Flying Club Gold benefits here.
To summarize, Silver status offers a 30% mileage bonus, free seat assignments up to 14 days out, premium economy check-in, and priority waitlisting. I sort of love how they describe some of these benefits, like premium economy check-in: "Take pride of place in our Premium Economy Check In area." LOL!
Gold status offers a 60% mileage bonus, free seat assignments at booking, an extra checked bag, Upper Class check-in, Clubhouse and Revivals lounge access, priority boarding, and more.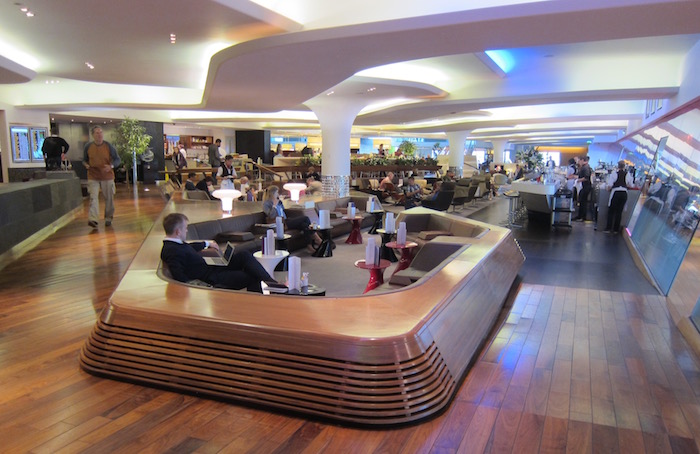 Get Virgin Atlantic Clubhouse access as a Gold member
You'll also get limited privileges when flying with Delta. For example, when Gold members fly Delta they receive 100% bonus miles, extra baggage, priority check-in, baggage, and boarding, and access to Delta Comfort+ 24 hours before departure.
Bottom line
This is one of the most generous status match offers I ever recall seeing from Virgin Atlantic. However, do note that this will only be valuable if you're actually flying Delta or Virgin Atlantic. Virgin Atlantic status doesn't come with upgrade certificates, or anything, though the privileges on Delta might be worth it for some.
Anyone plan on taking advantage of this Virgin Atlantic status match offer?
(Tip of the hat to The Unaccompanied Flyer)