Reader Apurva emailed me the following question:
Do you have any idea whats the deal with the Hilton Cash + Points thing? I mean in the last many weeks which ever nice hotel I checked, had points only availability but not a single night in C+P… it seems that the C+P is pretty much a show off when it comes to most hotels.

What is your experience? Is there a trick to beat it? What would you advise? May be a post on this – since I am sure many others are also experiencing the same thing!
This is a great question, and one I've been getting a lot across all hotel chains that offer a similar redemption option whereby you can redeem part points and part cash for a stay.
Why we're seeing less cash & points availability
So why are we seeing less cash & points availability across the board, while hotel loyalty programs continue to offer free night redemptions without blackout dates? It all comes down to how hotels are compensated for award stays.
When you redeem points for a free night award redemption, the hotel will be compensated anywhere between slightly above the marginal cost, all the way up to the average daily rate. The payout depends entirely on occupancy. The exact numbers vary by chain, but figure that if a hotel is more than 90% full, the loyalty program compensates the hotel at the average daily rate, while if it's less full than that (meaning an award guest isn't displacing a revenue guest), the loyalty program compensates the hotel at just slightly above the marginal cost.
Cash & points is a different beast altogether. The hotel decides whether they want to release the space or not, and they get a fixed amount of compensation for it regardless of whether their hotel is completely empty or completely full.
The hotel industry is doing extremely well
Similar to the airline industry, the hotel industry is doing exceptionally well. Average daily rates and occupancy are extremely high, so individual hotels really don't have much of an incentive to release cash & points space, since there's a limited amount they can make on those stays. So it's not your imagination, hotels are releasing less points and money (or whatever the name of the program of your favorite loyalty program is) space than in the past.
Just to kind of put this into perspective, last year the St. Regis Houston's website accidentally published the internal reimbursement rates for Cash & Points bookings. For a Cash & Points redemption which costs 6,000 Starpoints plus $110 per night, the hotel was getting the $110, plus $21.19 from Starwood for the 6,000 Starpoints redeemed. So the maximum revenue the hotel can get for a Cash & Points booking is ~$131.


Releasing Cash & Points space can limit revenue potential for hotel
Tips for finding Points and Money award space with Hilton
How do you find Points and Money award space with Hilton specifically? Here are my top tips:
Use the calendar search function
While they don't make it very easy to find, there is a way to search Points and Money availability using a calendar search. When you search availability for a hotel, make sure you select "Flexible Dates" as a search option. From there you'll be given a calendar, and in the dropdown menu you can select "Points and Money."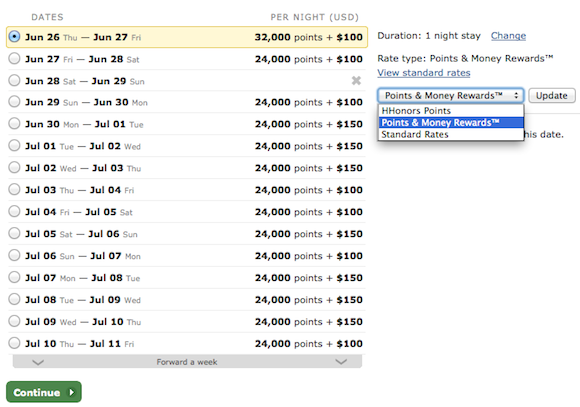 If you don't initially see an option to search flexible dates, just do a regular hotel search, and when the rates pull up select "Change." From there you'll see the box where you can tick "Flexible Dates."
Check back often
Last week I was monitoring Points and Money space at the Waldorf Astoria New York, and availability fluctuated literally every day. One day there was no Points and Money space, the next day there was, the next day there wasn't. So it's incredibly fluid, and it pays to check back. This is especially true as the stay date approaches, which is when they're most likely to open up this space.


Points and Money award space at Waldorf Astoria New York
Sort by Points And Money availability
If you're looking for Points and Money availability across a variety of hotels, Hilton does let you filter results based on whether you want to show properties with points availability or Points & Money availability.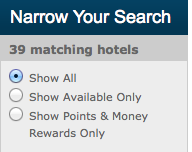 This is especially useful in bigger markets like New York, where it can take a while to search availability across dozens of hotels otherwise.
Be very flexible
I know this sounds obvious, but let me explain why it's useful. Hilton hugely devalued their award chart early last year, whereby some high end hotels went up in price by nearly 100%. Take the Conrad Koh Samui, which cost me 145,000 points for four nights for my stay last year, while now that same hotel would cost 95,000 points per night.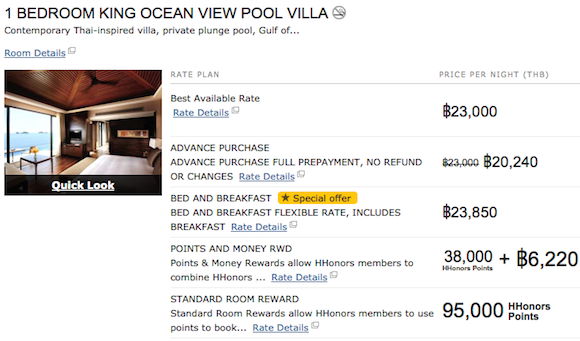 Nowadays the only remotely economical way to stay here is through a Point and Money award, which would cost 38,000 Honors points plus ~$190 per night. Admittedly that still sucks compared to the rate I paid during my previous stay, which was 36,250 points per night. But still ~$190 per night plus 38,000 points is a rate I'd be willing to pay for a gorgeous all villa property with private infinity pools.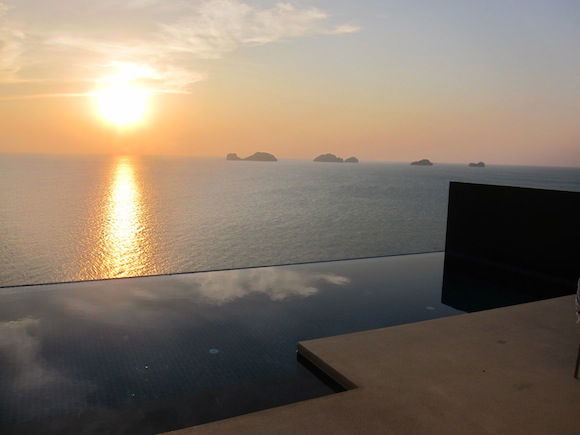 Conrad Koh Samui sunset from private infinity pool
The problem is that it can be tough to find Points and Money award space, so you have to be really flexible in order to find it.
Bottom line
More than anything else, I'd simply like to confirm that you're not crazy if you can't find Points and Money award space. Higher occupancy and average daily rates has led to hotels having less of an incentive to release this space. Still, it's not impossible to find…