In the interest of full disclosure, OMAAT earns a referral bonus for anyone that's approved through some of the below links. These are the best publicly available offers (terms apply) that we have found for each product or service. Opinions expressed here are the author's alone, not those of the bank, credit card issuer, airline, hotel chain, or product manufacturer/service provider, and have not been reviewed, approved or otherwise endorsed by any of these entities. Please check out
our advertiser policy
for further details about our partners, and thanks for your support!
Reader Bill K asked the following question in the "Ask Lucky" forum:
My brother (Allen) typically harasses me for ruining his life when it comes to miles and what airline to fly and why.

Background:

Allen has lived in Seattle for the last 4 years, traveling mostly in the last 2 years
I am entrenched in the Delta Medallion Program and hitting Platinum this year
I advised him to status match his Alaska Status to Delta when Delta were raiding the Alaska fortress as they were offering things like double MQM's and still rewarded miles based on mileage flown (never mind upcoming devaluations)
Allen instead, decided to keep earning miles on Alaska (great)
Allen is jealous of when I get upgraded on Delta

Fast Forward one year:

Allen recently flew Delta trans-con and was somehow upgraded to first class on one of his legs through his Alaska status (yes, it does happen)
Allen SWOONS head over heals for Delta's flight operations and that they put him on an earlier flight to Seattle from Salt Lake City and avoided a 3 hour layover
Allen Status matched to Delta (now Delta Silver) and has declared that he is making the switch to Delta for the remainder of the year.
Allen will be the benefactor of a Gold Choice Benefit next year [which is to say, Allen will be gifted Gold Medallion status as part of someone else's Diamond Medallion Choice Benefit].

So – now to the question:
Should Allen keep flying on Alaska given the following factors:

Currently an MVP
Likely to hit gold status on Alaska this year (numerous benefits like Upgrade Certs)
Greater bonus for redeemable miles
Better award redemption choices
Allen is west coast based

OR should he switch to Delta?
First of all, I don't know why, but when I first read the question I kind of felt like I was taking the SAT (that's a compliment!). And it sort of reminded me of one of those "if Bill is setting next to Jack, and Jack is sitting next to Sue, who is sitting next to Mike" questions (or maybe I just haven't had enough coffee yet… or both).
Anyway…
There's a cost to switching loyalty
There are many downsides to switching preferred airlines, including:
Many airlines don't status match, so you'll often have to work your way up to a specific status level, which puts you at a disadvantage compared to where you were
While something new can be exciting, there are all kinds of new "ropes" to learn when switching airlines; for me that's a big reason not to switch, since I know the systems so well on my "preferred" carriers, that I really don't want to have to learn new systems (for example, US Airways' standby policy has caught me off guard)
As noted by Bill, Delta does indeed have a status challenge program… which (unfortunately) his brother has already taken advantage of. Here are the details of that challenge: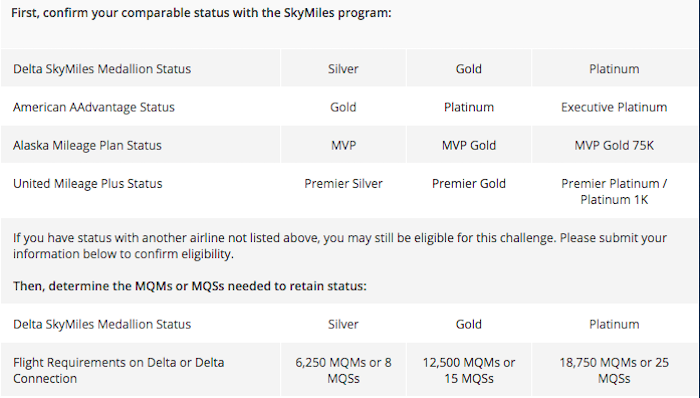 Why wouldn't I have done a challenge from Alaska MVP to Delta Silver? Because as an MVP you already get many reciprocal benefits on Delta, including upgrades (based on availability — they'll rarely clear on "premium" flights), priority boarding, etc. So when you factor in how much more valuable Alaska miles are than Delta miles, I do think it's worth crediting to Alaska… assuming crediting to Delta won't help achieve a higher status this year (and it doesn't sound like it would, since Allen will receive gifted Gold Medallion status next year).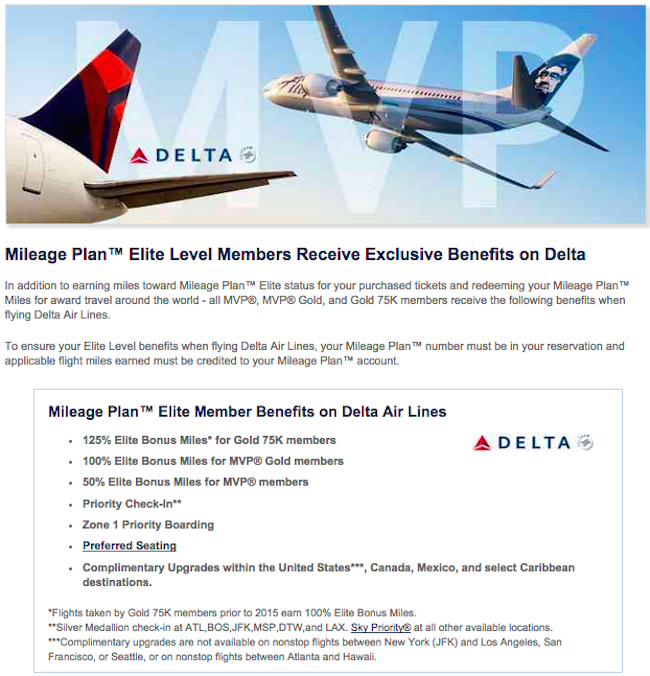 Is one good experience a reason to switch?
Allen had a great experience on Delta… which isn't surprising. Delta runs a really solid operation. They're the best US legacy carrier operationally, and that's why they don't need to have a great frequent flyer program. People fly them for other reasons.
That being said, Allen seems to be slightly twitterpated with Delta because he got an upgrade on a transcon and was put on an earlier flight. Which is totally valid. Except I wouldn't expect this to happen regularly as a Silver Medallion (at least the transcon upgrade part). Sometimes we all luck out on upgrades.
Heck, I recently got an upgrade to Delta first class on a transcon as an Alaska elite as well. But I wouldn't expect it to happen again.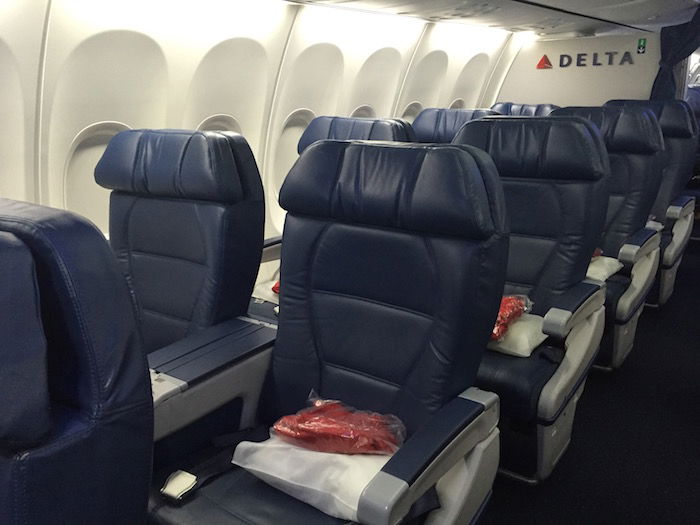 What I would do in Allen's shoes
It sounds like Allen is lucky to have a Diamond Medallion friend who will give Allen Gold Medallion status next year as a Choice Benefit. (It's worth clarifying that, as a Platinum Medallion, Bill can only gift Allen Silver Medallion status, which he already has.) So regardless of where Allen chooses to credit the miles, it doesn't sound like he'd have higher than Gold status with Delta next year.
Therefore I would advise Allen to continue to credit the miles to Alaska this year. Then he'll have MVP Gold status, which will get him four confirmed upgrade certificates. He can use those to confirm upgrades to first class on Alaska next year, and can still credit those miles to Delta if he would like.
It also gives him the most diversification next year. He'll have Gold status with both Alaska and Delta, so if one program makes major changes, he still has his choice of airlines.
In the meantime, there's not a huge advantage to Allen having Silver Medallion status rather than Alaska MVP status, even when traveling on Delta. It's one thing if he were Gold already, but it doesn't sound like that will happen before he becomes the lucky recipient of Gold Medallion status thanks to his benefactor's Diamond Medallion Choice Benefit anyway.
Furthermore, next year I'd suggest Allen do everything he can to maximize his return on the Delta SkyMiles® Reserve American Express Card. If he spends at least $30,000 on the card he can earn bonus MQMs. That's a great way to boost your status, and a strategy Nick uses as well. Even if it doesn't help him achieve a higher status level in 2016, he can use it to get rollover miles to count towards status for the year after. Effective 1/1/24, this benefit will no longer be available, and there will be a new way to earn toward Medallion Status with the Card. Learn more at delta.com/skymilesprogramchanges.
Bottom line
Ultimately there's no right or wrong answer here. But in general I do think you're better off following through on your mileage "goals" for a particular year, and then reevaluating at the beginning of each year.
At least I think that's the case unless there are truly major changes in circumstances. In this case it doesn't sound like anything substantive has changed in Allen's situation, aside from him realizing Delta is a great airline operationally.
My answer might be different if he weren't already going to be nominated for Gold Medallion next year. Given that, I think he's best off diversifying his options and getting MVP Gold with Alaska, while also getting Gold Medallion next year through someone else's Choice Benefit.
What would you do in Allen's situation?