In the interest of full disclosure, OMAAT earns a referral bonus for anyone that's approved through some of the below links. These are the best publicly available offers (terms apply) that we have found for each card. Opinions expressed here are the author's alone, not those of the bank, credit card issuer, airlines or hotel chain, and have not been reviewed, approved or otherwise endorsed by any of these entities. Please check out my advertiser policy for further details about our partners, and thanks for your support!
Update: This offer for the Citi Prestige® Card has expired. Learn more about the current offers here.
---
I don't think there's more of a mileage faux pas than redeeming your hard earned miles for gift cards or merchandise. With saver level award availability seemingly more limited than ever before, airlines are offering more ways for you to redeem your miles, including for merchandise and gift cards.
For example, through the United MileagePlus Merchandise Mall, you can redeem 40,600 MileagePlus miles for Bose headphones that would retail for $300. That's like getting less than three quarters of a cent of value per mile.
Or you can redeem Membership Rewards points for gift cards at the rate of one cent per point. Given how many great uses there are of Membership Rewards points, I couldn't imagine redeeming points that way.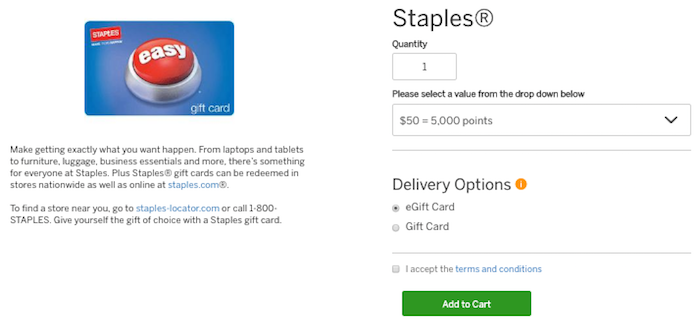 So this isn't how you should redeem your points… but I also just advised Ford to redeem 150,000 airline points for gift cards. Let me explain.
Ford has a lot of Southwest points…
Last night Ford and I were planning a trip with Chase Ultimate Rewards points (more on that later), and as part of that we were logged into his Chase account. I noticed he had the Southwest Rapid Rewards® Premier Credit Card, which I didn't previously know he had. I asked him about it, and he said back in the day he flew Southwest a lot, and for years that was the main credit card he used.
We logged into his Southwest Rapid Rewards account, and we found out he had over 150,000 Rapid Rewards points — yow! I manage all of Ford's mileage balances through my AwardWallet account, yet the Southwest one wasn't on there, since I didn't realize he even had it.
It's not that either of us refuse to fly Southwest. I think they're a great airline for what they do. But in practice most of my travel nowadays is international or part of larger itineraries. Furthermore, Ford is on the verge of earning Executive Platinum status with American, so American is his go to carrier domestically (though we'll see what that looks like next year).
We sort of agreed that it's good he has the points, and maybe he can use them for friends or family in the future, or perhaps if he needed to go somewhere. After all, 150,000 Rapid Rewards points will get you $2,000+ worth of travel on Southwest.
…and he just redeemed them all for gift cards
Before we settled this I said "let me just see if there are any other decent ways to redeem Southwest points." Southwest Rapid Rewards has a "more rewards" section, where you can redeem points for merchandise, gift cards, etc.
The best value I found was the ability to redeem points for one cent each towards the cost of an Amazon gift card. To me, Amazon credit is good as cash, since it's where we buy most of our stuff anyway. So 150,000 points could get $1,500 worth of Amazon gift cards.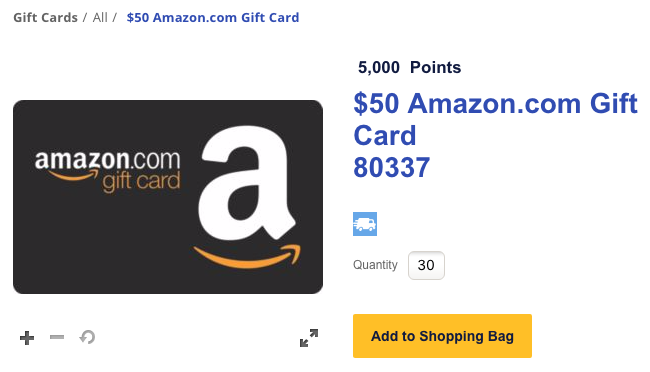 So Ford redeemed his 150,000 points for $1,500 worth of Amazon gift cards. I never thought I'd advise someone with a big points balance to redeem their points this way, but in this case I'm feeling pretty good about it.
What was the opportunity cost of those points?
For Southwest Rapid Rewards, points can generally be redeemed at the rate of 72 points per dollar of airfare on Southwest's cheapest fares (for more expensive tickets, they require more points per dollar of airfare). This doesn't factor in the federal excise tax on air travel, so in reality you're getting a bit more value than that.
For example, take the below itinerary, where you can either pay $203, or redeem 12,082 points plus $5.60. That means you're getting ~1.6 cents per point.
What that doesn't factor in, however, are the points you're forgoing by redeeming points. If you were paying cash you'd earn anywhere from 6-12x points per dollar spent, plus the 3x points on airfare you could get on a card like the Citi Prestige® Card or American Express® Gold Card.
Altogether I'd say I value those 9-15x points per dollar spent at around 15%.
That means in reality Southwest points are only really getting you ~1.36 cents per point of value, when you factor in the opportunity cost of booking an award ticket.
So I figured it made more sense to redeem those points for one cent that's "good as cash," rather than ~1.36 cents of value per point for travel on Southwest. Why?
Southwest has devalued several times in the past few years, and their per point value seems to be getting lower and lower
As the value of Southwest points continues to decrease, there's also the chance that they won't allow gift card redemptions for one cent each anymore
Ford doesn't know when he'd actually use these points towards flights on Southwest, so there's an opportunity cost to holding onto those points; also, the above rates are the absolute best rates you can get using Southwest points, while last minute tickets will get you less value per point
There's no way to get outsized value for redeeming Southwest points, since the program is revenue based on the redemption side; so he's not otherwise giving up some incredible potential redemption opportunity
Bottom line
I never thought I'd advise someone to redeem their airline points for gift cards, and actually feel good about the decision. While obviously you'll get the most use out of these points if you're actually flying Southwest, they can otherwise be redeemed for decent value in with Amazon gift cards, which is pretty good, in my opinion.
What do you guys say — am I crazy for suggesting Ford redeem his 150,000 Southwest points for $1,500 in Amazon gift cards?