In the interest of full disclosure, OMAAT earns a referral bonus for anyone that's approved through some of the below links. These are the best publicly available offers that we have found for each card. Opinions expressed here are the author's alone, not those of the bank, credit card issuer, airlines or hotel chain, and have not been reviewed, approved or otherwise endorsed by any of these entities. Please check out my advertiser policy for further details about our partners, and thanks for your support!
Delta just launched a new initiative for SkyMiles — a dedicated page highlighting what Delta is considering the best award flights bookable with SkyMiles at any given point in time.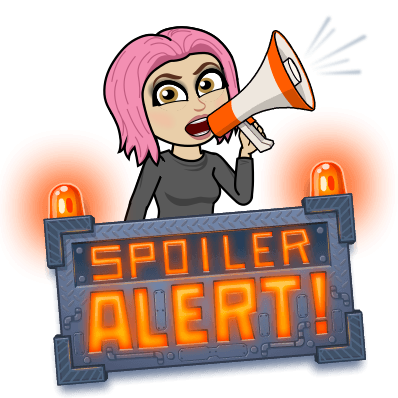 These aren't actually amazing uses of SkyMiles.
Let's dig in to the details.
What are these new SkyMiles Award Travel Deals?
Delta is promoting these as "some of our best award travel deals that SkyMiles Members can book using their miles," with the intention that this will provide customers with a regular place to check and see what the "best deals" are.
All "deals" will be for Delta-operated flights in the main cabin, and are broken down into the following categories:
Last-minute (for the upcoming weekend)
Domestic
Europe
Latin America/Caribbean
Trans-Pacific
The page is supposed to be "regularly refreshed with the best award travel deals," though of course, that presupposes that Delta's definition of "best award travel deals" matches yours, and let me assure you that it should not.
Frankly, and unless/until we see evidence to the contrary, I would give these "deals" the same weight as the airline marketing emails that show up in your inbox exhorting you to "act fast on incredible deals to [insert featured destination they've determined based on your browsing history]" — namely, none at all.
What would actually help members know if they're getting the best deal would be to compare to a published award chart, but we're going on three years of grumbling about that to no effect. Still, savvy members know or can look up what the prices should be and choose their redemptions accordingly, so this is more a fleecing of those customers who trust Delta's marketing department to give them accurate information about SkyMiles.
Comparing SkyMiles Award Travel Deals to cash
As Delta continues to move towards a revenue-based system, these "award deals" are likely to be closely correlated to the best paid fares in a given market, making these even less likely to be a "best" use of SkyMiles, much less a deal.
The first batch of domestic deals range from 11,000 to 17,000 SkyMiles, and are pretty restrictive:
Round-trip travel required
Valid through May 1 – August 11, 2018
21 day advance purchase
Saturday overnight required
The only international deals this week seem to be for five destinations in Latin America and the Caribbean, but only from Atlanta: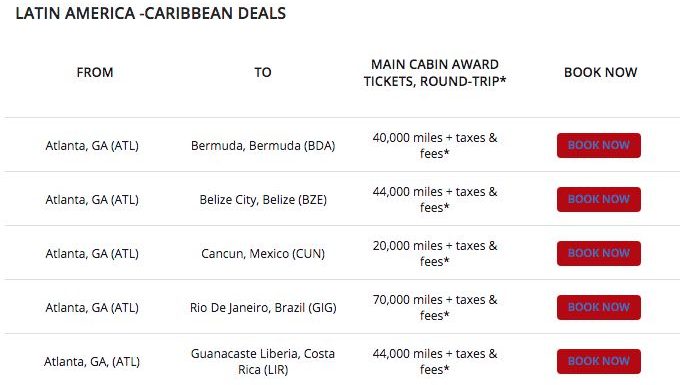 These have a bunch of rules as well:
Purchase by May 15 for travel August 15 – September 30, 2018
Round-trip travel required
90 day advance purchase
Beyond that, the footnote specifies that:
Promotional pricing currently not available on the following dates:

Between Cancun, Mexico, MX (CUN) and Atlanta, GA (ATL): August 25 – 29, 2018
Between Liberia, Costa Rica (LIR) and Atlanta, GA (ATL): August 15 – 29, 2018
So at first glance these are pretty restrictive.
Let's look at some examples though.
Los Angeles to Las Vegas for 11,000 SkyMiles
First off, you can't get the 11,000 mile price is you want to leave on a Friday, which is ostensibly when many people would want to take a quick trip from LA to Vegas. You can leave Thursday and return Sunday for 11,500 on some weekends though, which might be reasonable for some.
Except, of course, an evening departure is even more miles, and you can't get two tickets at that price regardless:
Even if you compromise on days of the week and times to get that elusive 11,000-mile fare, it still doesn't represent a "deal".
Round-trip flights between LA and Vegas aren't expensive to begin with, and there are plenty of options on other carriers (and at better times).
For these exact flights, Delta is charging $148.40 (round-trip) if you pay cash. That's a rate of 1.345¢ per mile. Yikes.
Atlanta to Cancun for 20,000 SkyMiles
Once again, these deals aren't actually available over a long weekend, so in order to get the best price you'll have to make compromises on days and times.
These awards have higher taxes and fees, since they're international, so there's also $81.41 in taxes and fees.
The cash price, in contrast, is $380.51 all-in. Subtracting out the taxes, that's a redemption rate of 1.495¢ per mile.
Typically, the best way to extract value from SkyMiles is in using them for international premium cabin tickets that would otherwise be outrageously expensive, not on fares that are already reasonably priced when using cash, and that holds true here.
If this is how you intend to use miles, you want other miles
Everyone has different travel aspirations, and if your primary goal is to save money, then it can indeed make sense to use miles for economy flights. Particularly for domestic awards, however, SkyMiles are really not the best currency for those purposes.
Instead, you'll want to consider cards like the Chase Sapphire Reserve® for 1.5¢ towards travel, or cash-back style cards like the Capital One® Venture® Rewards Credit Card or Citi® Double Cash Card. Those will all offer more flexible rewards with a better rate of return for domestic (or highly discounted international) economy flights.
At these rates, you're literally better off redeeming your SkyMiles for Champagne.
Bottom line
It's really unfortunate that the marketing and revenue management departments have taken over SkyMiles, because there's still a lot to love about the program. I'm thrilled with my elite treatment, the miles are reasonable to earn, and the value is definitely still there for international premium cabin awards.
It would be awesome if Delta were to offer some consistent (and advertised) SkyMiles deals that actually represented a superior value for their members, but at first glance that doesn't seem to be happening.
Anyone see anything of value with these SkyMiles Award Travel Deals that I might have missed?