In early November, Singapore Airlines unveiled their new A380 premium cabins — specifically, they introduced a new business class and also new Suites. The new cabins are currently available exclusively between Singapore and Sydney, and yesterday I had the chance to try the new business class on the 7hr15min flight to Sydney.
Just a couple of weeks ago I flew Qatar Airways' Qsuites, and was blown away by how innovative the new seats are. How is Singapore's new business class? I'd say it's an improvement over the old one, though it's more of a mild evolution than a quantum leap for the cabin.
For starters, let me link to a trip report of Singapore Airlines' previous business class, which I flew on a 777-300ER between Hong Kong and San Francisco last year.
Singapore's new A380 business class consists of a total of 76 seats, in a 1-2-1 configuration. While other airlines use staggered configurations, virtually all seats are identical here. In my opinion the cabin is really sleek and futuristic looking.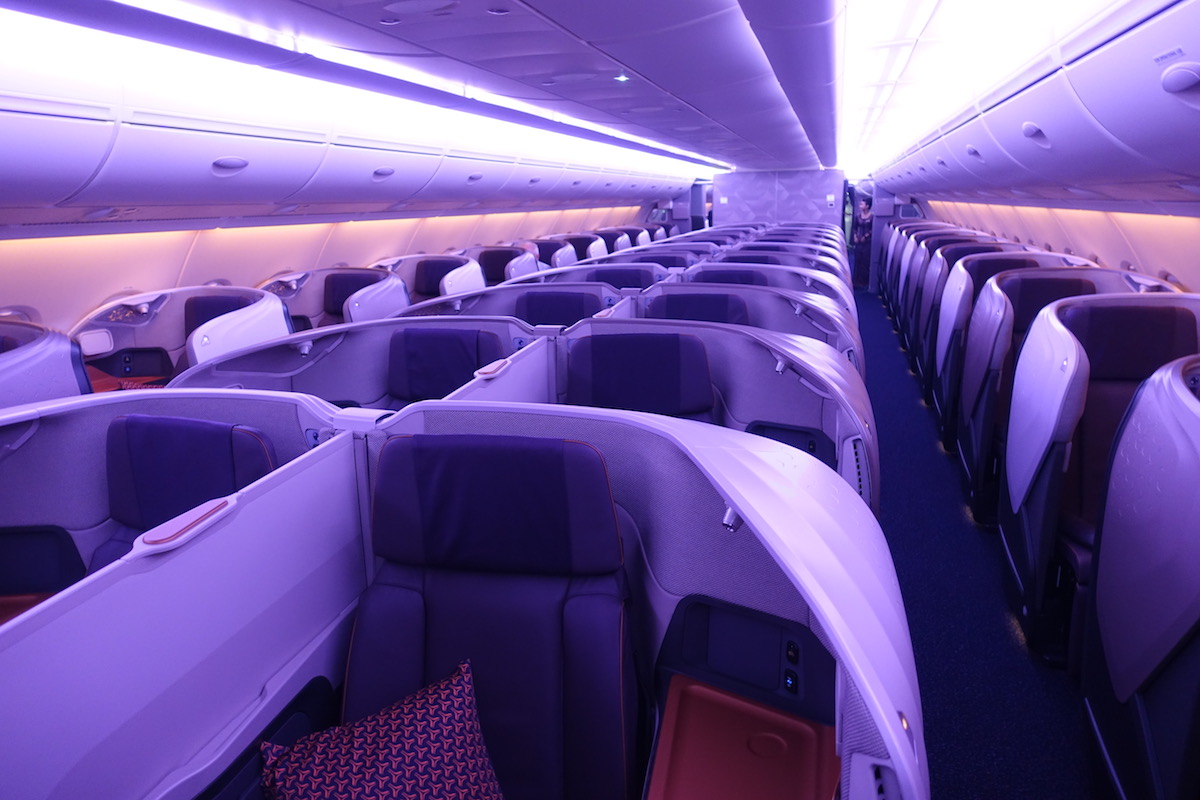 The seat itself feels a bit tighter than the old seat, which is good, because the old seat actually felt too wide, in my opinion. While the seat doesn't feature a door and isn't enclosed, it features a significant amount of privacy, which represents a big improvement over their old business class.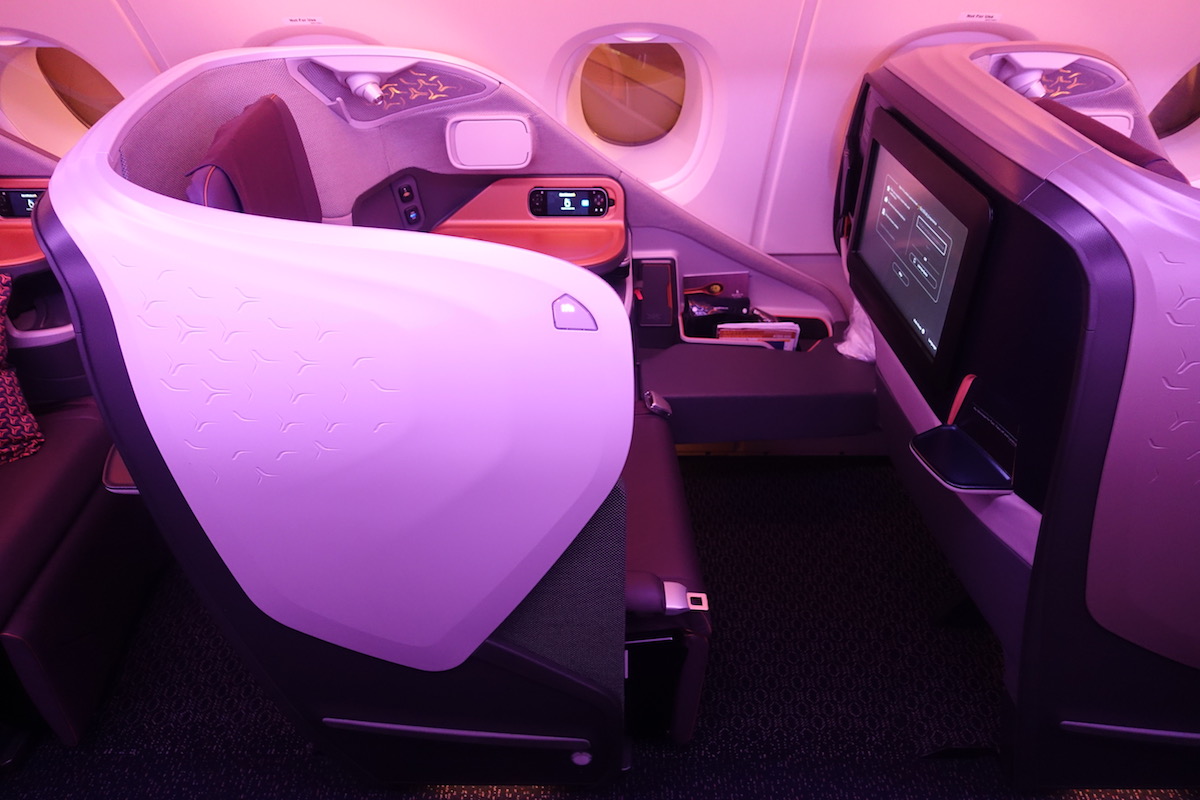 The seat feels cozy, and everything about the seat feels pretty deliberately designed, in terms of things like where the buttons are located and how the tray table moves.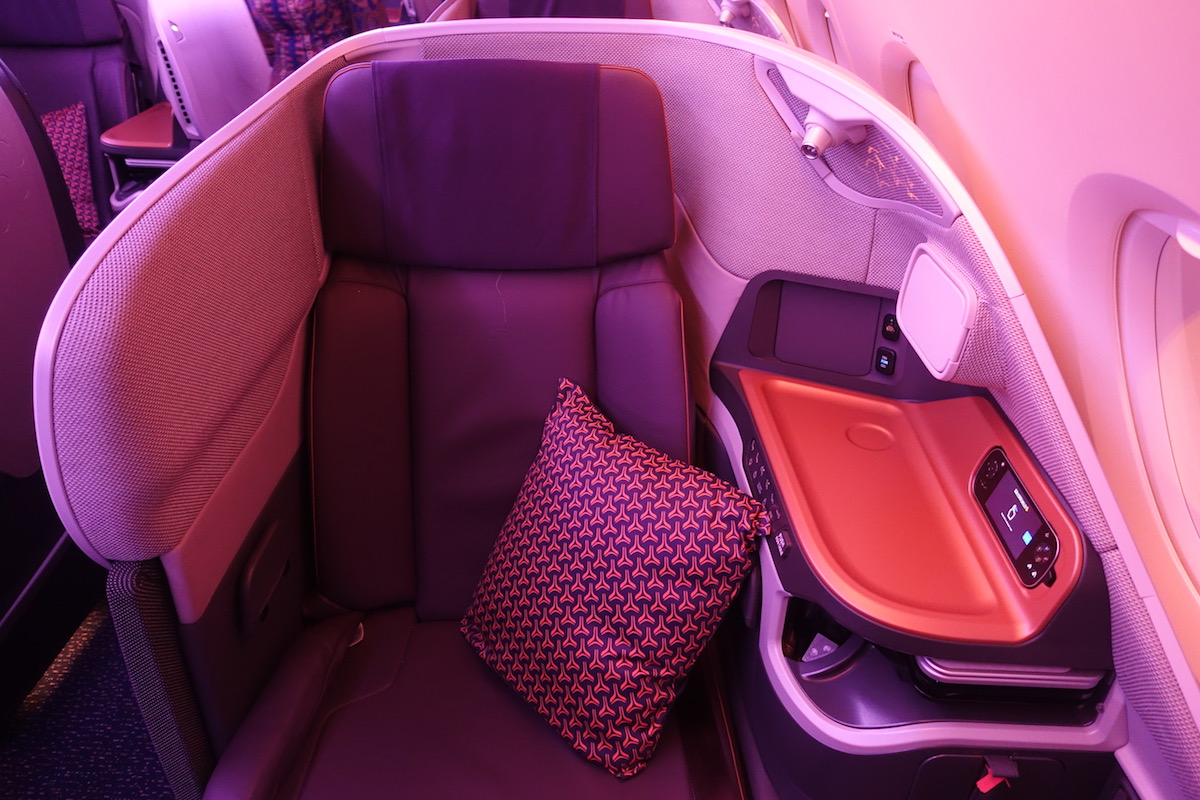 While you can of course store your bags in the overhead bins, the area underneath your seat is large enough to store most carry-ons, for easier access.
There's one very big major huge issue with the seat — it's hard as a rock. This is the same problem Singapore Airlines had with their old seat, and I can't really wrap my head around why they didn't change that. While the seat comes with a mattress pad, in reality it's more of a sheet than anything. If the flight isn't full I recommend requesting an extra duvet, and then sleeping on top of that.
The reason I say Singapore Airlines is using the same basic "bones" of the seat is because you still have to sleep at an angle. The area for your feet is in the far corner, so you sleep at a 30-45 degree angle. I don't view this as a big deal, though it does eliminate a few potential sleeping positions. The good news is that in the past you had to get up in order to put the seat into bed more (as the seat essentially "flipped" over), though you no longer have to do that.
Now let's talk about the coolest improvement of the cabin. All of the middle seats can turn into a double bed. You can have the center partition all the way up, half up (as pictured below), or all the way down.
The crew can create a double bed for passengers traveling with someone.
Now, in reality there's not going to be much spooning, since you'll have to sleep with your feet in opposite directions, as the foot cubbies are at the far ends of the seats. That means your heads will be close to one another, while your feet will be quite far apart. However, this could be nice for relaxing, or if you're watching TV.
What's delightful is that if you're traveling alone and they have empty middle seats (which presumably most flights do), then you can snag a double bed. I decided to just sleep across two seats, which I found to be comfortable (and hilarious for the novelty).
I was worried there would be a big bump between seats, but there wasn't. The flight attendants did put a duvet on the area between seats which helped, but I think it would have been pretty comfortable either way.
I'll have a more detailed review of Singapore's new business class soon, and especially of the excellent service. The crew on this sector was spectacular, and really it's the service that sets Singapore Airlines apart.
Singapore's new business class bottom line
After trying Qatar Airways' new Qsuites, I feel like almost anything will be disappointing by comparison.
Singapore's new business class is an improvement over the old experience. The seats are more private, you don't have to get up to turn the seat into a bed, and there's now the option of creating a double bed in the center seats.
At the same time, I feel like they dropped the ball when it comes to how hard the seat is. Personally I also don't love how you have to sleep at a strange angle due to the foot cubby, but that's something I can live with.
Overall I think this is a solid improvement over Singapore's old business class. It's especially nice for couples traveling together. However, for an airline that has historically been one of the biggest innovators in terms of their onboard product, it doesn't really have a "wow" factor, in my opinion.
What do you make of Singapore Airlines' new business class seats?