As you may (or may not) know, I also have a points consulting service, whereby we help people redeem their airline miles. I have several colleagues working with me, and they're some of the most knowledgeable and passionate people I know in this hobby. During my dad's round the world surprise birthday trip they offered to step in and help with some guest posts. Thanks to the positive feedback, they're back with more. This post is from my friend Tiffany, whom you've heard from before.
---
One of the questions we've been getting nearly constantly is whether it's better to use US Airways miles now, or wait until they combine with the American AAdvantage program in the second quarter of this year.
It's an interesting question, because the two programs have radically different routing rules, and many cases where their award prices are different as well. This means there's more to consider than just the mileage rate to a given destination.
Background info
To start out, it really helps if you are comfortable with the basics of US Airways and American routing rules.
Rather than rehashing everything here, there are a few of Ben's posts that you should reacquaint yourself with:
Go ahead and read 'em. I'll wait.
Ready?
So there are a few key things we want to consider:
Stopovers
One-ways
Elite status
Regions
Stopovers, one-ways, and open-jaws
American doesn't allow connections of more than 24 hours on a single award ticket, so if you're looking at flying to Istanbul and spending a few days in London en route, US Airways is going to be the better option.
Similarly, US Airways prices one-ways at the same rate as a round-trip. So if you just need a one-way ticket back to the US from Frankfurt, you're likely better off using American miles.
As far as open-jaws are concerned, it likely doesn't matter. The region involved is going to have a greater impact. This is because American prices round-trip awards as a combination of two one-way awards, so it really doesn't matter what your origin and destination are.
Elite status
This one is a bit tricky, because we're not entirely sure how elite status will impact previously booked awards.
For example, I have Executive Platinum status with American — does that mean I'll be able to waive change fees on an award I book using US Airways miles before the programs combine? I assume I'd at least be able to talk my way out of a cancellation fee, but nothing has been officially announced.
That being said, if you have US Airways Chairman's Preferred status you might as well lock in some awards now, as there really isn't a downside.
Regions
This, to me is the biggest factor. In most cases, US Airways has the more lucrative premium cabin award chart from the United States, with the exception of Southeast Asia and Peru/Colombia/Venezuela/Ecuador.
If you want to compare the various charts, Ben has a handy guide with all the various regions and cabin classes and the corresponding mileage requirements with both American and US Airways.
(I'll wait again, it's okay)
To summarize, here's the breakdown of which program has the better mileage rates for a given region:
| For flights to: | Book through: |
| --- | --- |
| Central America / Northern South America | American* |
| South America | Either, unless you need a stopover or a one-way, or are going to Easter Island |
| Europe | Either, unless you need a stopover or a one-way |
| Middle East | US Airways has the better rates, American offers awards on Etihad |
| Africa | US Airways |
| Northern Asia | US Airways |
| Central Asia / Indian Subcontinent | US Airways |
| Southeast Asia | American* |
| South Pacific / Oceania | US Airways, unless you're going to Tahiti |
Routing rules
However, how you intend to get there is potentially more important than where you're going when it comes to choosing between the two programs.
For example, I'm plotting out a trip to Peru (surprise Ben!), and availability directly to Lima isn't looking too hot around my dates.
Availability through Santiago is wonderful though, and flying Dallas > Santiago > Lima works nicely. American wouldn't allow this routing, given Santiago and Lima are separate regions. So while both programs would allow connections in North America, US Airways will allow connections in South America as well.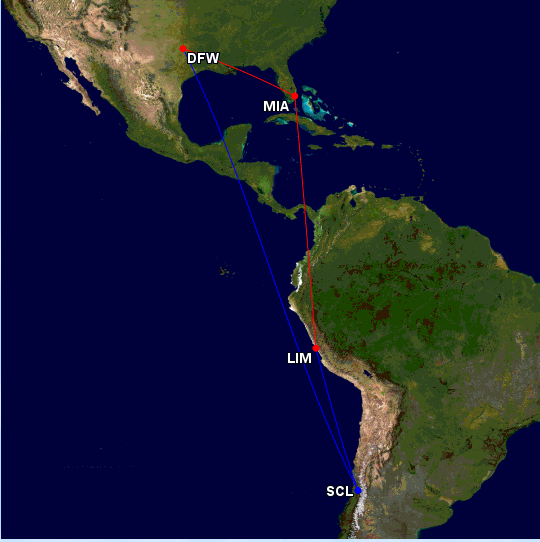 US Airways would allow the routing in blue, whereas American would not
While American is ostensibly cheaper at 60,000 miles for a roundtrip in business class to Peru, the routing through Chile would require 165,000 miles. So 100,000 US Airways miles is probably the better option in this case, unless I can change my dates.

And I'd really like to go back to Peru
Conversely, for travel to Southeast Asia, the American AAdvantage award chart is much more generous, at 135,000 miles for a roundtrip in first versus 160,000 through US Airways. American will also allow you to route through Tokyo or Hong Kong along the way, which pretty much covers your transpacific options through oneworld.
US Airways, however, has a tenuous grasp on geography, and will allow you to route however the heck you'd like.
If you want to have a stopover in Europe or route through the Middle East that's completely acceptable, though it might take a few phone calls. So unless you've found a routing on JAL or Cathay Pacific, you might want to explore options with US Airways, even though it technically requires more miles. If it means you can route via Europe or the Middle East (with a stopover), then it might be worth the mileage premium.
Bottom line
I'd summarize my thought process sorta like this:
And I'm not joking about the time required. I love calling US Airways, but know I'm in the minority there.
For me personally, I'll be trying to redeem as many of my US Airways miles as possible under the current chart. They have the better redemption rates in most cases, and certainly have the more liberal routing rules.
What about you? Are you redeeming your US Airways miles now, or waiting?