In the interest of full disclosure, OMAAT earns a referral bonus for anyone that's approved through some of the below links. These are the best publicly available offers that we have found for each card. Opinions expressed here are the author's alone, not those of the bank, credit card issuer, airlines or hotel chain, and have not been reviewed, approved or otherwise endorsed by any of these entities. Please check out my advertiser policy for further details about our partners, and thanks for your support!
Update: This offer for the Citi® / AAdvantage® Executive World Elite™ Mastercard®  has expired. Learn more about the current offers here.
---
I just wrapped up a big trip with one of my best friends, Matt. As you'd expect, much of what we talked about during the trip was miles & points. He's someone who is big into miles & points but doesn't have status right now, so here's his current "scenario" for going for status. Curious to hear what you guys think!
As some readers may know, I just flew a couple segments in Emirates first class with Ben, and then hopped around Europe on British Airways, airberlin, and, within the past day, Austrian Airlines.  I'll be returning home via Frankfurt on Lufthansa, and will be reviewing their first class product.  That is, unless the pilots decide to strike without much advance notice in the next day or two.  For me, flying economy, coach, "euro traveler," or whatever its called intra Europe is no big deal.  The flights are generally no longer than a couple hours, and I'm not especially tall so the leg room isn't an issue for me.
Depending on where you live in the United States, things might be more or less the same.  If you are based in Chicago, for example, there's not that many U.S. destinations that are more than a few hours from Chicago.  The west coast is the furthest, but that's still less than four hours of flight time away from Chicago.
It's somewhat different when talking about someone who lives on the west coast and travels frequently to the east coast (or vice versa).  My family lives on the east coast, in a city I have no choice but to connect to if flying any legacy carrier, and many of my friends are located in New York.  Flights between JFK and LAX/SFO can take nearly as long as JFK-LHR, especially during the winter.  And to the extent they're shorter on the outbound, that only ruins any chance of sleeping on a redeye.  Factoring in that I often want to leave in the early evening on Sundays, i.e., I'm usually number 25 or so for departure at JFK, it should come as no surprise that I'm concerned about seat comfort.
I'm assuming — perhaps naively — that my new job will afford me somewhat more free time than my former job, such that I can visit family and friends on the east coast at least once a month.  I love Los Angeles.  Ben makes fun of me for how often I mention Los Angeles or that I'm an Angeleno.  (Of course, what do we expect from someone who has no home lives in hotels!?)  He knows he wants to live in Los Angeles though.  Just like my New York friends.  Even if they won't say they love it, they do too.  Anyway, part of loving a city, I think, is being able to get away enough that the city remains fresh and exciting.  52 weekends a year in Los Angeles has the potential to be dreadfully boring.  How many green juices, "hikes," and trips to Erewhon can a man handle?
That brings me back to the title of this post.  Since I know am fairly sure I will be embarking on transcons (of approximately 5,000 miles each) at least once a month, do I go for status on an airline?  Do I go for status now, meaning I'd have status through February 2017?  Do I wait until January 1, 2016, so that I get status throughout 2017 as well?  And then on top of all of that, if I do elect to go for status (and frankly even if I don't care to maintain it), I should almost certainly do so by way of a status match or status challenge, right?  All of a sudden the decision has become more complicated than redeeming your Korean Airlines SkyPass miles for someone else!
The initial decision is which airline to fly.  I want an airline that has direct flights, which knocks Alaska Airlines out quite quickly.  Delta, American, and United all have sizable operations out of LAX, however, so I'm lucky in that respect.  I've had status with both United and Delta, but don't feel particularly inclined to return to either carrier.  Despite having flown almost 250,000 miles on United (a low number for many of you, I know), I can count on a single hand the number of notably good experiences I had onboard — and all of those predate the merger with Continental.  Now that they've completely gutted partner redemptions through MileagePlus, I just don't see the point of going for status with United.
I've flown more than 300,000 miles with Delta, and although I've certainly had bad experiences, I maintain that Delta provides the most consistently good service of any U.S. legacy carrier.  Add to that the fact that Delta has IFE on most every aircraft, and wifi on literally everything but their one cabin regional jets, and Delta is certainly a strong option.  The problem with Delta, however, is that as a Platinum Medallion I almost never cleared upgrades.  That was particularly true LAX-ATL.  I had better luck to and from JFK at off peak times, but of course those upgrades are no longer complimentary.
I recently flew domestic economy (not the bizarrely newly rebranded BusinessElite Delta One), and thought the experience was quite nice.  Even though Delta aircraft are generally older, they've modernized the cabins such that they feel new.  It almost feels like you're flying Virgin America.  Reality sets in, of course, when Miss Patty goes around asking "y'all" what "type of coke" you want, and calls you "sweetie."  (I don't mind this one bit, but there simply aren't many Atlanta, Georgia based Virgin crews.)  Delta's catering is also well done, in my opinion, although it's no replacement for real food.
I don't see the point in going for Delta status, though.  (My condolences to OMAAT contributor Nick, who has a love affair with Delta.)  Why?  Because the main reason I want elite status is to obtain upgrades on transcons and to earn frequent flyer miles that can be redeemed for premium (ideally first class) international travel.  As noted, I virtually never cleared when flying via ATL (which is how I would visit my family).  Beginning this year, upgrades to JFK from LAX are not complimentary, and so my odds are 100% for not clearing there, save for using a confirmable instrument (the same is true on United).
Worse still, Delta SkyMiles (a/k/a SkyPesos) are incredibly difficult to redeem at reasonable rates.  Why use 62,500 Aeroplan miles for Lufthansa first class when I could spend 300,000 Sky Miles to fly Delta's 767 business class.  The thought of redeeming 300,000 miles for anything but three one-way awards to Europe, Africa, or Southeast Asia in Emirates first class with a stopover in Dubai is positively mortifying.  People shouldn't even be allowed to joke about that.  As Delta apparently knows based on its marketing, loyalty is a two-way street.  That's precisely why I won't be loyal to Delta.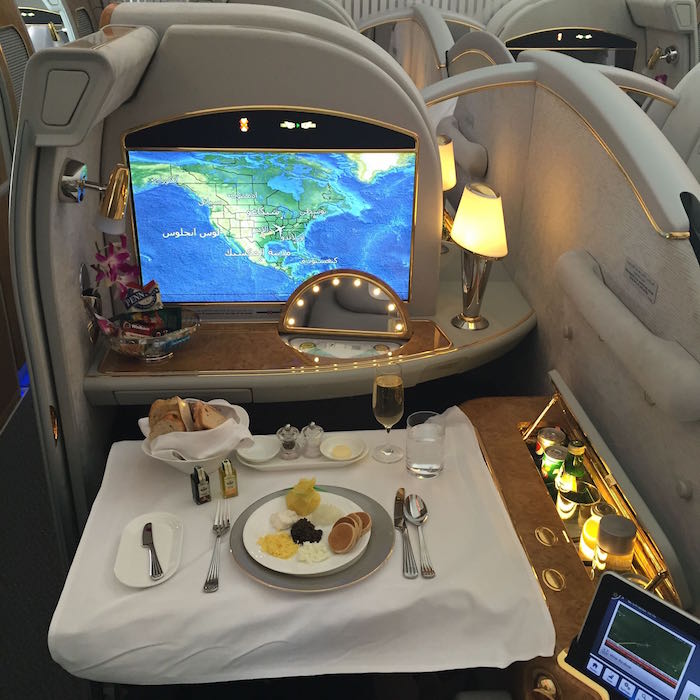 That leaves American Airlines.  Despite not having flown much on American, I have flown it enough to have a fairly good understanding of its product.  I have flown American's old flagship first from Tokyo Narita to Los Angeles once and taken several trips in the new A321 flagship first product to/from LAX/JFK (which is essentially the new 777-300ER business class seat).  I've also had many short and mid length flights in domestic first.  Finally, I have flown AA economy on several occasions, including from Dallas to Los Angeles (my longest flight).  There's no question that American's economy is not as nice as Delta's.  To be fair, there may be a possible exception on the A321, but I've never seen the economy cabin.  Delta Sky Clubs beat Admirals Club lounges too.  (With SFO being an exception.)  So why fly American?  Two reasons.
First, Advantage miles are easily the most valuable points currency for someone, like me, who wants to travel in international first class.  Who would turn down an opportunity to fly Cathay Pacific, Japan Airlines, British Airways, or Etihad Airways in first class?  Not only are these partner redemptions available, American has yet to gut their award chart and make these awards relatively unobtainable for most flyers.  The 75,000 mile sign up bonus on the Citi® / AAdvantage® Executive World Elite™ Mastercard® is more than enough to fly Cathay Pacific first class to Hong Kong and onward to anywhere in Southeast Asia, which costs only 67,500 points.

Cathay Pacific First Class Seat 1K — Yes, please! 
Compare that to 120,000 United Mileage Plus miles for first on ANA, which relatively speaking is just ridiculous.  That's why the card is on my list of cards to get before year-end, especially since Admirals Club access is somewhat useful if I elect to fly primarily on AA.  Will AA devalue its award chart?  Most certainly.  But I see no reason to believe AA will make changes that render it materially worse than United or Delta (assuming that's even possible), and partner award access (which is often plentiful given the right time frame), shouldn't disappear either.
Second, AA offers complimentary / sticker upgrades from LAX/SFO-JFK, and from what I hear it is much easier to clear an upgrade LAX-ORD/CLT/(to a lesser extent)DFW, than on Delta via ATL.  Not only does AA offer complimentary upgrades to business on the flagship A321s, that product is essentially identical to Delta and United's 757 business on the same route.  I'd say Delta and American's product is much more aesthetically pleasing, too.

American A321 Business Class

Delta A321 "Delta One" Business Class (thanks, Nick, for the picture)

United P.S. (compliments of an old Instagram post captioned "toe room friendly")
More still, the flagship first product that American offers is totally unmatched by any competitor, and it's GWTW fabulous.  Add to that the fact American is now serving Lanson Brut champagne on the JFK-LAX/SFO routes, and I'm more amber happier than Ben in Emirates first.

American A321 Flagship First Class
To this point, it seems like I'm just explaining why I'm going to aim for status on American.  But the thing is, I have questions about whether it's worth it.  I won't be buying business fares and upgrading to first, so the first class allure somewhat dies away.  And I've flown the first class product a number of times now, obviously without having any elite status.
American and British Airways miles are not that difficult to come by, and there's plenty of points space close to departure if you're willing to be a little flexible on times.  Moreover, even as an Executive Platinum (and definitely as a Platinum relegated to using stickers) I have to imagine the chance of an upgrade LAX-JFK on the Friday redeye is slim to none.  Despite all of this, I will be traveling enough that I won't always want to use miles, lest I have nothing left to use for international premium cabin travel — the best use of points there is, in my opinion.  Mileage bonuses for elite members will also help me accumulate more points to use for international redemptions, even though credit card sign ups are still by far the best way to earn redeemable miles.
So, here's my question for all of you: should I do an American challenge now, get Platinum, and then try to get Executive Platinum starting January 1, 2016?  This seems like the best way to go, because I'll have status while going for EXP, but I won't get EXP this year and waste what would be something like six months worth of status (assuming I qualify for EXP mid next year by including some international travel).  On the other hand I could just keep the $240 (I think) that it costs to do a Platinum challenge and just work my way up organically. But I think if I do the math, just the elite redeemable bonus I would get as a Platinum and the fact I can pick Main Cabin Extra seats more than justifies the cost.
I'm interested to hear everyone's thoughts on the matter, though, and welcome any advice you have for me.  Thanks!