In the interest of full disclosure, OMAAT earns a referral bonus for anyone that's approved through some of the below links. These are the best publicly available offers (terms apply) that we have found for each product or service. Opinions expressed here are the author's alone, not those of the bank, credit card issuer, airline, hotel chain, or product manufacturer/service provider, and have not been reviewed, approved or otherwise endorsed by any of these entities. Please check out
our advertiser policy
for further details about our partners, and thanks for your support!
As I mentioned previously, over the coming days and weeks you'll see the occasional post from a fellow reader who has applied to write for OMAAT on an ongoing basis. It's possible that posts will still be in the publication queue after we've announced our decision, so we'll be publishing these anonymously. We hope you enjoy the different perspectives!
This post was written by Greg Adamczyk.
---
Up until three years ago, I had not visited a single one of the National Parks in the United States.
And then I stumbled upon a picture of the Havasupai Falls in the Grand Canyon.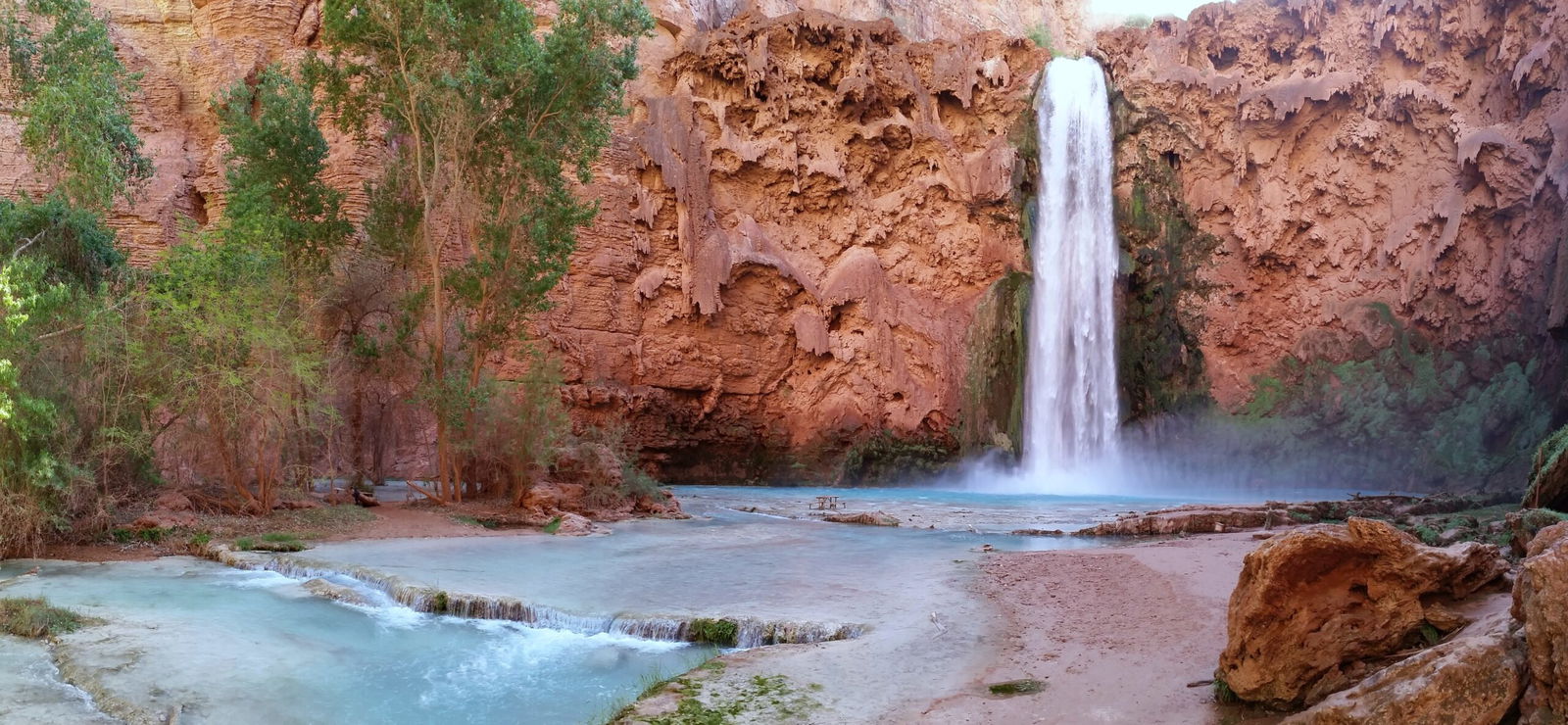 I was enamored by the beauty of the falls and decided that I wanted to make the 10 mile hike. This type of a trip was different for me – I had visited many cities in Europe and South America, yet I never visited any national parks or went camping even once.
In order to prepare for the 10 mile hike, I decided to take a weekend trip to Yosemite National Park. I figured that this would help me get a feel for what it would be like to do a strenuous hike, but was completely unprepared for the beauty of Yosemite. I was hooked.
Since that time, I have had the opportunity to hike and camp at Kenai Fjords in Alaska, Acadia in Maine, and the Great Smoky Mountains National Park in Tennessee. I've seen the sunrise at Haleakalā National Park in Hawaii. In addition, I've driven through Rocky Mountain National Park in Colorado and Death Valley National Park in California.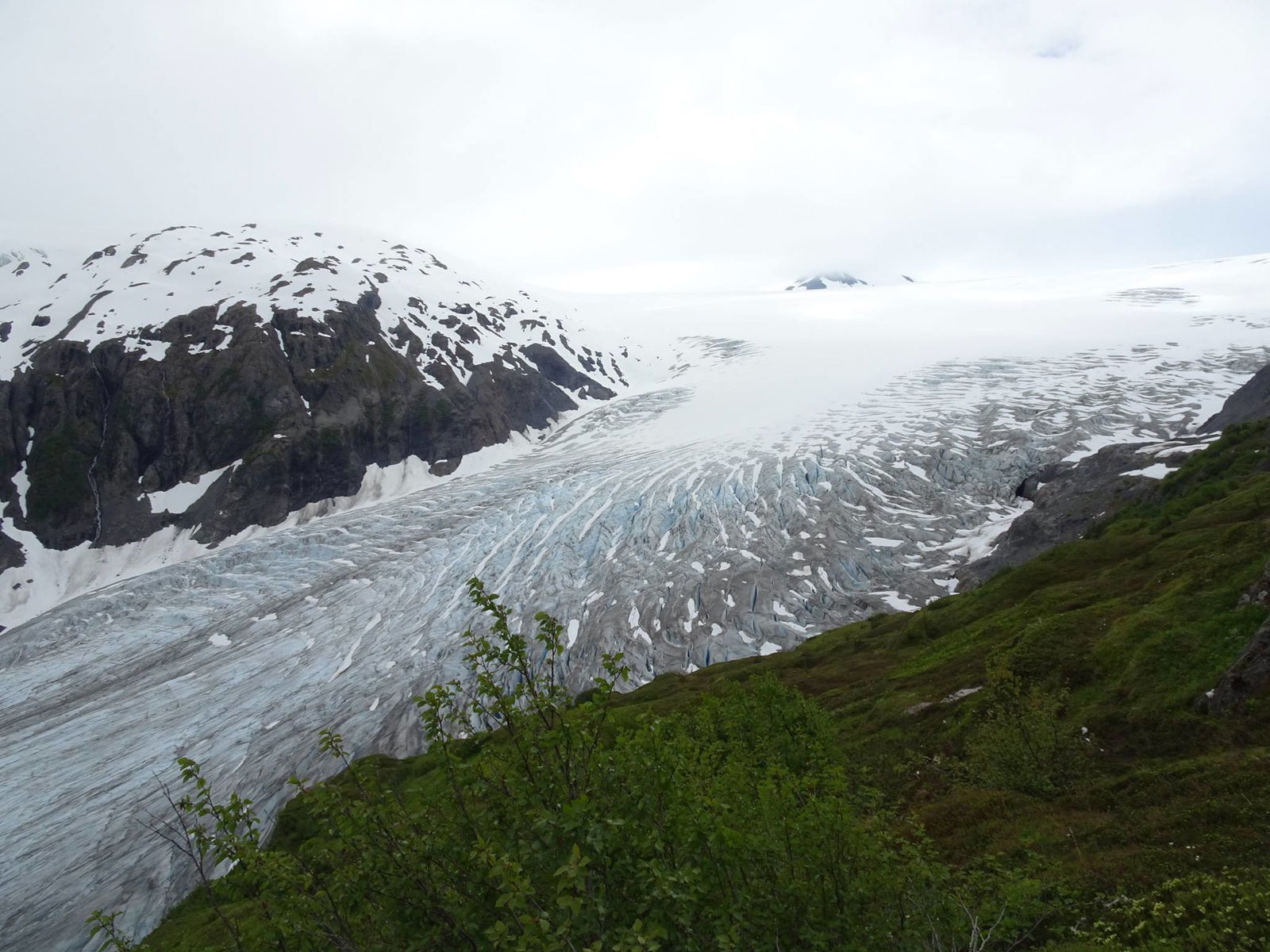 This coming summer, I am going to hike Glacier National Park in Montana, and I'm super excited to add this park to my resume!
But visiting a national park can be expensive. Airports near more rural areas tend to have high fares. Due to the remote location of most of the parks, you will most likely need to rent a car. Additionally, few chain hotels exist inside the parks themselves, leaving you without as many options to use to points.
Even with all of these obstacles, it is possible to enjoy the beauty of the national parks without having to spend a small fortune, so I want to share some of the things I've learned along the way.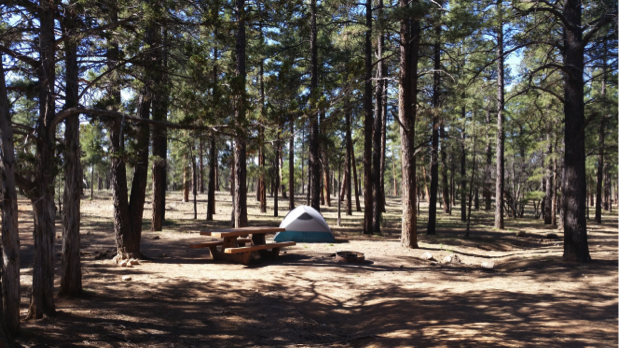 Airfare
When browsing for flights, you will discover that airfare to airports near national parks can be quite expensive. For example, a one-way ticket from New York to Fresno, California (Yosemite National Park), is typically upwards of $292 for July and August of this summer. That's not horrible, but could add up quickly for a family.
Round trip flights to Kalispell, Montana (Glacier National Park) from New York are running around $550 for the same timeframe, as a more extreme example.
Even with these pricey airfares, it is still possible to reduce your out-of-pocket expenses.
Check the value of domestic economy awards
Because Fresno is a small regional airport with limited daily flights, airfare is generally high. For example, when searching award availability for two people in July, award prices vary significantly for a one-way economy class ticket from New York:
Delta award tickets start at 26,000 miles
United, Alaska, and American tickets start at 12,500 miles
Using 12,500 miles would represent a value of 2.3 cents per mile, since the lowest paid one-way ticket price is $292. Sure, you can realize a higher CPM by using miles for international premium cabin travel, but Cathay Pacific doesn't fly to the Grand Canyon. 😉
Check neighboring airports
While Fresno is a shorter 2-hour drive to Yosemite, you could decide to fly into a major airport such as San Francisco or Oakland. In order to find a neighboring airport to compare airfare, use Google Flights' explore map feature.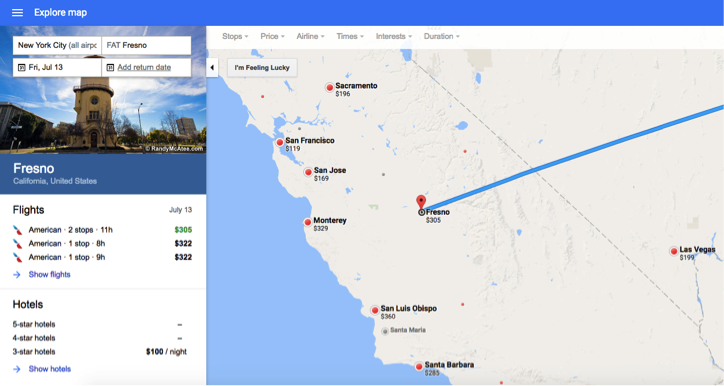 While the drive from San Francisco to Yosemite is around 3.5 hours, you can save on airfare and flying time.
For example, United Airlines is selling flights for as low as $119 one-way from New York. Better yet, the major US airlines offer non-stop flights from New York to the Bay Area, saving you from having to make a connection.
Again, for one person it might not be worth it, but for a family of four you'd spend a similar amount of time, and save ~$700 each way.
Get an airline co-branded credit card
If you decide to go camping in a national park, you will need to bring a tent and all of the necessary camping supplies – most of which wont fit in an overhead bin.
As a result, having elite status with an airline is huge, but even having the right credit card will help to reduce the cost of checked luggage. With the Delta SkyMiles® Gold American Express Card, for example, you — along with up to eight companions on the same reservation — get to check your first bag free. That could save you $50-$450 in baggage fees on a round-trip!
Car Rental
Since you will be visiting some of the most beautiful and scenic parks in the country, you will need a way to get there.
Use AutoSlash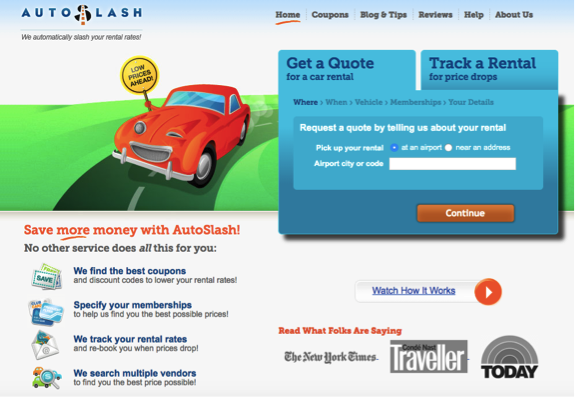 AutoSlash will find you coupon codes to save you money on your car rental. The site will even re-book you if your car rental reservation drops in price anytime after making your reservation.
Pay with a credit card with primary rental coverage
When paying for your car rental, I would highly recommend using the Chase Sapphire Preferred® Card or Chase Sapphire Reserve®.
These cards offer you primary car rental coverage when renting a car in the United States. As a result, you will be able to decline the car rental company's insurance. This will save you money and give you some piece of mind if an accident were to occur.
Lodging
Finding a place to stay in or near a national park can be difficult, especially during the peak summertime season. In addition, since there are usually no brand name hotels in the parks, you wont be able to utilize points.
Book hotels early
Hotels located within the National Parks sell out quickly, especially for summertime travel — sometimes even a year in advance! As of March, I found availability for this coming summer to be very limited.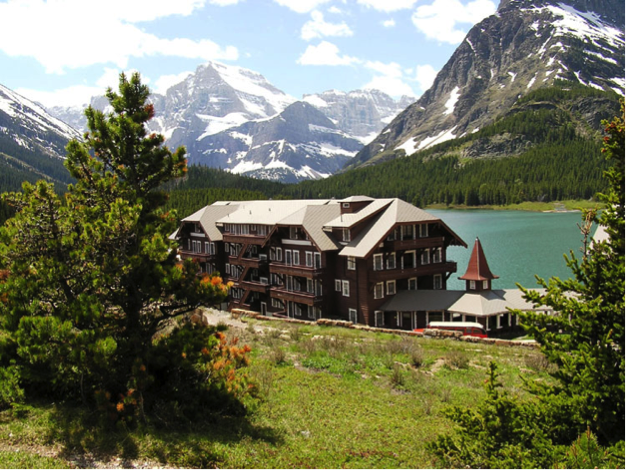 In addition, hotels in the national parks tend to be expensive. For example, a one-night stay at Many Glacier hotel will set you back $207 plus taxes.
This is where credit cards that offer an annual travel credit, like the Chase Sapphire Reserve, can really come in handy. The Sapphire Reserve offers an annual $300 travel credit, and you will receive an automatic statement credit after your stay. That can definitely help to offset the high nightly rate!
Look for coupons with online travel agencies
Online travel agencies (OTAs) can be a great value here. Since most of the hotels near the parks are not brand name or chain hotels, online travel agencies like Orbitz, Expedia, and Hotels.com, will allow you to use promotion codes that can help you save 10, 15, or even 20% on a booking.
For example, Orbitz usually has an ongoing 15% off coupon that can be used toward hotel bookings.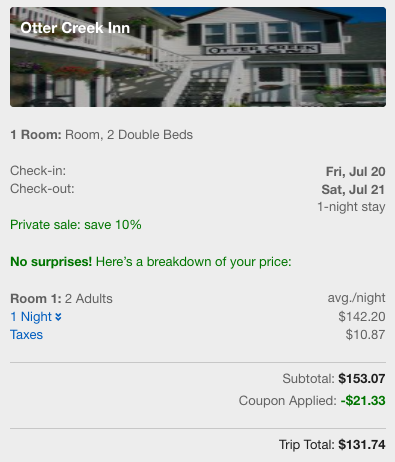 In addition, these OTAs oftentimes have their own reward program. For instance, Orbitz and Expedia allow you to earn money toward future bookings. If you frequently book though these sites, you can earn money off future hotel stays and may even qualify for a free night.
Use points for hotels on the park perimeters
You can find less expensive hotels within a short drive of the parks. This can be a much more economical way to visit. While you might not find a glamorous hotel, it is easy to find Choice, Wyndham, and Best Western hotels nearby. More importantly, these "gateway" hotels give you the option to book with points! These are not necessarily high-end properties, so I always make sure to look at reviews on TripAdvisor first. No one wants to stay at a run-down and dirty hotel.
Additionally, Choice, Wyndham, and Best Western have been known to offer generous promotions. For example, Wyndham currently has a pretty awesome promotion going on where you can stay twice and earn a free night!
Wyndham
Wyndham points can be earned three ways – by staying at their hotels, buying points, or making purchases using the Wyndham Rewards Visa Card.
Their program is unique in the fact that every hotel in their portfolio can be booked for 15,000 points, regardless of the cash price. These "Go Free" Rewards can save you a lot of money.
For example, the cash price for Wingate by Wyndham Hurricane, Utah (Zion National Park) is $161 + taxes per night. Instead, you could choose to stay for free by using 15,000 points.

You also have the option to reduce the cost of a hotel by booking a "Go Fast" Award. Usually, you will have to pay 3,000 points plus some cash.
Choice Hotels
While not the most glamorous hotels, Choice Hotels are a solid option for staying close to the national parks. Reward nights at Choice Hotels range from 6,000 to 35,000 points. While you can transfer American Express Membership Rewards points to Choice Hotels, it's typically not the best use of points. Purchasing Choice points during promos can make sense for these pricier destinations though!
However, it can be frustrating to book Choice Hotels with points since you can only book 30 days out. This can be a problem during the busy season – many of the gateway hotels sell out. However, if you are a Diamond elite member, you can book awards up to 100 days in advance.
Best Western
Best Western gives you another opportunity to use points. Best Western properties can be booked starting at 8,000 points, and range up to 36,000 points.
Similarly, you can earn Best Western Points by using the Best Western Rewards Mastercard, purchasing points, or staying at hotel properties.
Campgrounds
For those adventurous travelers, I'd recommend camping in order to experience nature at its finest. Similar to hotels, the most popular campgrounds in the national parks tend to fill up 3-6 months in advance. Unlike hotels, however, the campground sites usually start at $18 per night.
In order to find campgrounds, I use the site Reserve America, where you can search for specific national park campgrounds in order to find open availability.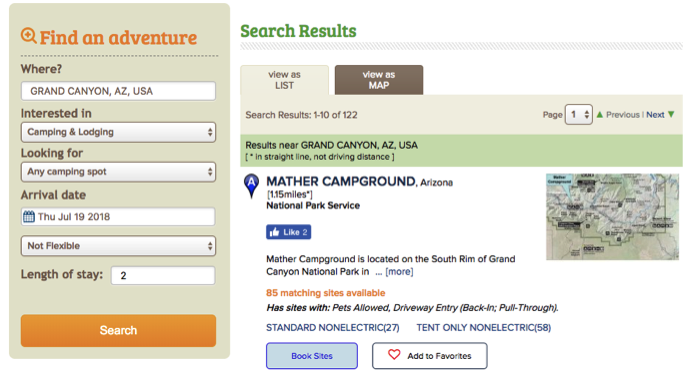 Saving on Entrance Fees
For the most popular national parks, the 2018 entrance fee is $30 for a non-commercial vehicle. However, there are five ways to save on entrance fees when visiting.
Free Days
In 2018, you can visit any of the national parks for free on the following days:
April 21 – First day of National Park Week
September 22 – National Public Lands Day
November 11 – Veterans Day
Annual Pass
For $80, you can purchase an annual pass. This pass allows the owner and up to three adult passengers (age 16 and older) in a vehicle to enter the national parks across the country. This type of pass would make sense if you plan on visiting multiple national parks in a single year. Otherwise, it would still be cheaper to purchase a 7-day pass upon arrival at the national parks.
Senior Pass
As long as you're a US citizen aged 62 and older, you can purchase entry to the national parks at a reduced rate. An annual pass costs $20 and a lifetime pass costs $80.
Military Pass
If you are an active member of the US military, you can obtain a free pass. In addition, if you are a dependent of an active military member, you too can get a free pass to the national parks. Unfortunately, veterans are not eligible for this military pass.
Fourth Grade Pass
If you happen to have a son or daughter in fourth grade, you can claim an annual National Parks Pass. This pass will provide them and the rest of the family free entry to the parks.
Bottom line
National Parks are a somewhat less conventional destination for those of us accustomed to frequent international travel. And they can be shockingly expensive due to their more remote locations and popularity.
If you follow the tips that I have provided when it comes to airfare, car rental, and lodging, you should be able to save money while enjoying some of the most beautiful parks in the country.
What are your tips for minimizing expenses when visiting the national parks?
---
As a reminder, this post was guest-written by a fellow reader. Feedback is appreciated, but please keep the comments kind and constructive.