In the interest of full disclosure, One Mile at a Time earns a referral bonus for purchases made through some of the below links. These are products and services we use ourselves, and are the best offers we know of. Check out our Advertising Policy for further details. Thanks for your support!
It has long been a challenge to pay certain bills with a credit card. Personally, I've long wished for a convenient and easy way to earn miles while paying our mortgage every month.
It just always seems like a big sink-hole of an expense just sitting there begging for a way to get some mileage out of it.
Well, that wish has been granted. 
Plastiq is a somewhat new service that allows you to pay any bill by credit card for a 2.5% fee. But for a limited time, they are lowering the fee to 1.99% for those paying with an American Express or Mastercard. (Visa is still 2.5%.)
I've used the service for about a month with good results.
When To Use Plastiq
There are a few cases where paying bills with Plastiq can make a lot of sense. (And plenty of others will it will make no sense at all.)
First of all, if your payee accepts credit cards directly, you should pay that way. There's no need for a middleman. This is for the cases where you would end up mailing a check, doing a bank transfer, or otherwise paying a bill with no way of earning miles in the process.
The key to keep in mind here is that you are still paying a 1.99% fee, even during the promotional period. So you are effectively buying miles, meaning you need to value the miles at more than the cost you are buying them.
Meeting Minimum Spend Requirements
It is often the case that the big credit card sign-up bonuses require you to spend a certain amount within a limited time frame, maybe $3,000 in three months for example. Depending on your circumstances, this can be an issue.
These are times that it may make sense to pay your mortgage, rent, or similar bill using Plastiq and eating the 1.99% (or even 2.5%) fee. If you met the entire $3,000 spending requirement using Plastiq, you'd pay a $60 fee ($75 without the promotion.) That's obviously worse than meeting the minimum spend organically, but definitely better than missing out on the sign-up bonus altogether.
Just make sure that whatever bonus you are earning is worth more to you than than the $60 fee! And it probably is.
Hitting A Spending Threshold
Some credit cards have thresholds whereby you earn a bonus if you hit a certain spend over the course of a year. The Club Carlson Premier Rewards Visa Signature® Card, for example, awards a free night good anywhere in the US for those that spend $10,000 each year.  That's in addition to whatever points you already earned of course.
So if you were to get within a month of your account anniversary, and find yourself having spent $9,000 that year, it could make a lot of sense to pay your rent via Plastiq to push you over the $10,000 level and earn the free night.
My Experience
I started using Plastiq last month to make our mortgage payment. It's worth noting that I was just another random customer — I wasn't invited to try the service, and didn't realize that there would be a promotion like this coming up. In short, they had no way of knowing that I am a famous blogger write for a famous blog, so I would imagine that my experience should be typical.
I tried the service mostly because I curious as to how well it would work, and wanted to explore the opportunity to get some extra credit card spend for a bill that I couldn't normally pay by credit card. Specifically our mortgage.
Creating An Account
It was surprisingly easy to sign-up with Plastiq. They require just your name, telephone number, and email. I think that was about it.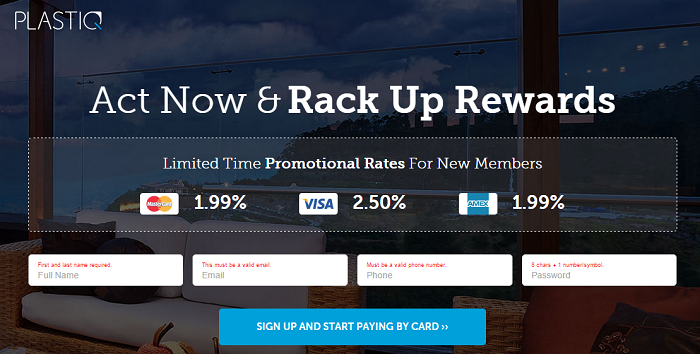 Paying Our Mortgage
I searched for mortgage provider in their database of payees but I couldn't find it. This made me a bit nervous as to whether Plastiq was going to work in our case.
But it turns out that for those not in their database, you just enter their address and essentially create a payee. It was pretty easy, though I will admit that I checked the address at least 10 times to make sure I got it right.
I then entered my credit card number, put the loan number in the memo along with my phone number, and hit submit. That's it. I was then advised that the payment would take about a week to arrive, probably since they send a check by mail. It was all really easy, almost so easy that it made me think I must have done it wrong.
They also have the ability to do ACH transfers for some payees, but I have no experience with how fast those work.
Payment Posted
Sure enough, the payment posted 9 calendar days later, pretty much as promised.
Bills You Can Pay
You can pay bills to people or businesses in the US or Canada. There's no limit to the amount of the payment. The key is that it ought to be a real bill. Supposedly they may require proof as to the service or good being provided, so keep that in mind. You also can't use Plastiq to pay your credit card bill, so don't get any ideas.
Off the top of my head, here are bills that I can think of that I have often wished that I could pay via credit card.
Mortgage
Rent
Nanny / babysitter
Electric
Water
Private party sales, such as buying a car on Craiglist
Tuition
Contractors
Professional services
Medical expenses
Bottom Line
This is real service with a real value proposition. Plastiq seems to serve two communities of people — those who need short-term financing to occasionally cover everyday expenses and those who want to earn miles on transactions where they otherwise can't, and are willing to pay a fee to do so.
There are certainly other opportunities out there to increase credit card at lower costs, but for those who just want a solid, straight-up, legit way of earning miles and points while paying bills that they otherwise couldn't pay with a credit card, this is a good deal. I've personally had a favorable experience, so I hope they are successful and sustainable. 
I don't know how long the 1.99% promotional rate will last, but I would suggest signing up now if you want to try out the service.
As always, just make sure that you are getting more value out of the miles you earn than the fee that you are paying to earn them.
Have you used Plastiq? What was your experience?