In the interest of full disclosure, OMAAT earns a referral bonus for anyone that's approved through some of the below links. These are the best publicly available offers (terms apply) that we have found for each card. Opinions expressed here are the author's alone, not those of the bank, credit card issuer, airlines or hotel chain, and have not been reviewed, approved or otherwise endorsed by any of these entities. Please check out my advertiser policy for further details about our partners, and thanks for your support!
Update: These offers for the Starwood Preferred Guest® Business Credit Card from American Express and the Starwood Preferred Guest® Credit Card from American Express have expired. Learn more about the current offers here.
---
A few weeks ago Ben complied his breakdown of how he earned miles last year, which led to some interesting conversations about how us "normal people" go about earning miles.
One of the things I like to do at the beginning of each year is go through my credit card portfolio and draft up a bit of an outline for the coming months. Ben is constantly telling people to determine their travel goals and apply all this to their own lifestyle, and I thought it might be interesting to share a few details about the approach my husband and I take when choosing the best travel credit cards for us.
So there are a few things that are different about our situation in comparison to Ben's (but are maybe similar to yours):
I'm playing for two here, so while I have twice as many opportunities to earn miles, it also means a bit of a balancing act between the various programs and offers.
While we're pretty nomadic, we do, technically, have a place where we pay rent.
I like to use credit cards for the "boost" towards elite status when I can. For the most part we'd probably make it otherwise, but it takes a bit of the pressure away.
And there are many things that are similar:
I also maintain top-tier status with American, Hyatt, and Starwood.
With the exception of some tuition bills, we don't really have many expenses outside of travel, so the majority of our spending is more creative, or reimbursable expenses.
We aren't that into manufactured spend anymore — it's awesome for people who do well at it, but I don't feel like I have the time to devote to doing this properly nowadays. We'll do a bit, but more in the "buying gift cards for things we'll need soon anyways" or "creative manners of paying rent" ways.
Over the years, we've come up with an approach that works pretty well for us — combining steady (but comparatively slow) credit card applications with really focused spending.
We earn many miles from shopping portals
I'm not sure if this is a side effect of how much we travel, or being a single-car household in a city where that's really impractical, but I LOVE ordering things online.
Earning bonus miles through shopping portals makes that even better, so I always make sure we have access to the Ultimate Rewards portal, Shoprunner through American Express, etc. I'll sometimes keep a card open longer than I otherwise would to preserve that access.
And it's so convenient.
Like, not only can I have contact solution and deodorant delivered to my house, but I'll get free two-day shipping and 5x-10x Ultimate Rewards points and my FSA-eligible purchases will be tracked? Done.
We redeem a lot of miles for other people
Ben has taken his parents on some pretty amazing trips, and while we're not at that level, we do try. I brought my teenage niece around the world with me in the summer of 2013, her mom and I spent a few weeks in Europe last summer, we took my mother-in-law and her partner to Japan and Taiwan in November, I am dragging my mom to Singapore at the end of next month, and so forth.

The pinnacle of this was bringing ten people to Sicily a few years back (With SkyMiles. From the West Coast. Just saying.)
And that's not to mention all the last-minute Avios tickets, or the emergency hotel rooms. We're privileged to be able to help our families travel, and we're happy to do it, even if it takes more planning and strategy than if we were just worried about our own redemptions. So that means we do pick up cards that might not have has much relevance to us personally, but knowing that we might need those back-up points.
My brain is full
Over the years, I've become more selective about where I'm accruing miles. It's easier for me to keep track of lots of points in a few programs than to have points and miles all over the darn place.
As it is, we have top-tier elite status in three airlines and four hotel chains. And I'd honestly rather have more points with those programs (or flexible points I can transfer to any program), than try and figure out how to maximize one more thing.
I realize that means I'm potentially missing out on some great opportunities, but I have to draw the line somewhere. So I'd rather have every possible variety of the Citi AA cards than a Southwest card at this point. But that's just me — you have to find your own balance.
We intend to travel less this year
We both flew well over 200,000 miles last year, and at some point that's just exhausting.
We had a great time — going to a wedding in Malaysia, taking my in-laws to Japan, and making several trips to Europe — but overall it meant a lot of time in the air, and between us about 250 nights in hotels. Yay?
There isn't as much "required" international travel this year, so we're hoping to spend more time at home. Also, our dog is really cute, and we'd like to see her more.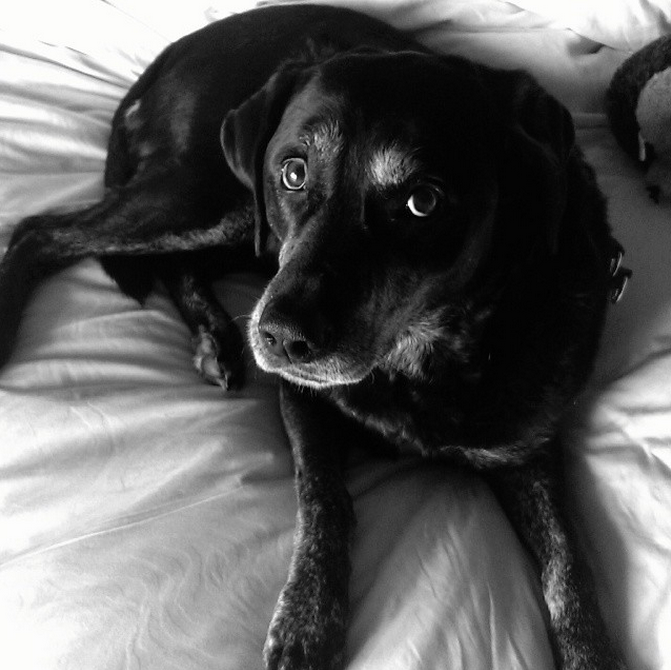 I mean, look at those eyebrows…

It never really works out that way, but that's the goal, in theory. I wouldn't change anything about our life, don't get me wrong, but if I can direct some spending towards specific credit cards to cut back on the number of mileage and mattress runs that's going to be a more compelling option than in the past.
So having the right credit cards is correspondingly more of a priority.
What we have at present:
And what we'll be applying for in 2015:
As part of our approach for this year, many of the above credit lines will be consolidated or shifted around, and then we're looking at adding the following (along with whatever exciting offers come along):
In general, we try not to have the same cards at the same time. If there's just an insane bonus we'll both get a given card, but otherwise we like to trade off. That opens up more spending categories while avoiding some of the annual fees.
It's also important to note that I'm not going to rush out and apply for all of these cards tomorrow, or anything ridiculous like that. It helps me to have a roadmap for the year, but I'll make adjustments based on bonuses and program trends.
We generally apply for 1-2 cards every eight or so weeks, alternating whether it's me applying, or him applying. This spaces out the minimum spends, and gives us a pretty constant trickle of points.
Bottom line
We're in this game for the long haul, and I don't really feel the need to be super-aggressive on the credit card front. When I was new to this hobby some banks were giving out credit cards like they used to hand out lollipops at the drive up window (certain Pacific Northwest-based airline cards seem to still have this approach), while others required ~18 months between applications.
I remember thinking that 18 months was approximately forever. We live in a culture of near-instant gratification, and it's hard, but important to pace yourself.
Yes, there are probably some cards you should get first, and it's good to burn as you go to hedge against devaluations, but it's not a race.
Given our existing pool of miles and points, I'm comfortable with a slower earn rate.
What about you? How do you plot out your mileage strategy for the year? Do you?
---
Non-Affiliate Product Disclaimer: The information for the Hyatt Credit Card has been collected independently by One Mile at a Time. The card details on this page have not been reviewed or provided by the card issuer.