Wow, I'm still just in shock. I've had a few surreal travel moments over the years, but today was a new one for me. Today hit very close to home.
I was booked on KLM today from Amsterdam to Chicago, departing at 12:40PM. That's just 25 minutes after MH17 departed Amsterdam for Kuala Lumpur.
I got to the airport at around 10AM by taxi, and as we approached the airport the first plane I noticed was the Malaysia 777 parked at a remote stand. It certainly didn't seem unusual, but for some reason I took note of it. As unfortunate as it may be, I think post-MH370 you can't help but notice Malaysia 777s.
Then I walked through the check-in halls, including past the Malaysia Airlines check-in counter, where I saw dozens of people checking in. I love airports so enjoy looking at various check-in counters to imagine all the places people are traveling, and that counter was no exception.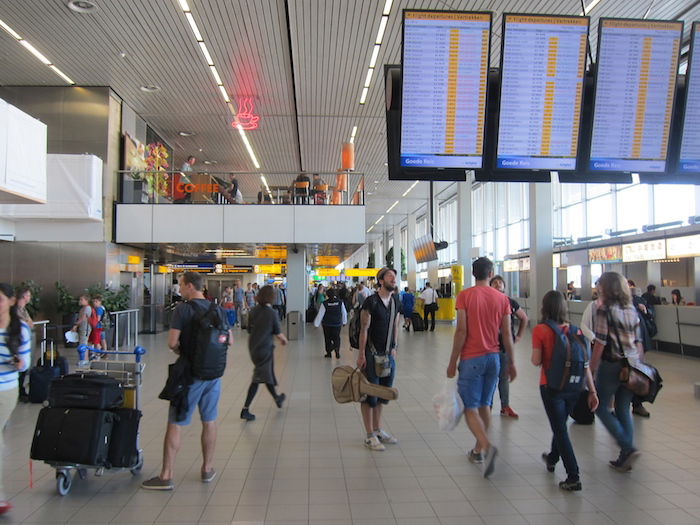 Then I got in the departure immigration queue, which took about 10-15 minutes. Usually I don't talk to people in those lines, but for whatever reason I ended up in a conversation with the guy in front of me in line. It's not often I get into conversations with strangers at airports, especially in immigration queues. He was on MH17 to Kuala Lumpur.
When I wrote about the MH370 disappearance several months ago, I wrote the following:
I've flown Malaysia Airlines several times before and have always enjoyed my flights on them. I've even flown the exact airframe that is missing, 9M-MRO, which feels somewhat surreal.

While it impacts us, I can't even imagine how it impacts anyone that was involved directly in any way. Not only the families of the passengers and crew, but also the last people to interact with them, the check-in agents working that flight, passengers that may have sat next to them on connections, the people that were apparently booked on the flight but missed it, the crew hotel they were going to stay at in Beijing (how surreal it must be to have those 12 rooms empty), etc.

There aren't words that can describe my sympathy, other than that I'm really sorry, that they're in my thoughts, and that I'm sending the best vibes possible their way.
Today, oddly, I guess I was one of those "last people" to interact with one passenger… it's just surreal.
My KLM flight didn't have Wi-Fi, so I didn't realize what happened until I landed in Chicago, and had dozens of texts from friends (aviation and non-aviation alike) along the lines of "holy crap, did you see what happened?" The taxi to our gate took about 10 minutes, and during that time I was shaking and kept mumbling explicatives, much to the confusion of some of the other passengers in the cabin.
My thoughts are with the families and friends of those involved. And my thoughts are also with Malaysia Airlines — how incredibly unfortunate.
For those of us lucky enough to not have been on the flight, remember to hug your loved ones and tell them how much you love them. This certainly hit closer to home than ever before for me…