Airbnb is becoming increasingly popular, and there's no denying that the quality of accommodations can vary greatly, from mansions to couches. However, this is something I haven't seen before.
Lufthansa is selling premium economy seats between Frankfurt and New York on Airbnb at the cost of 699EUR roundtrip.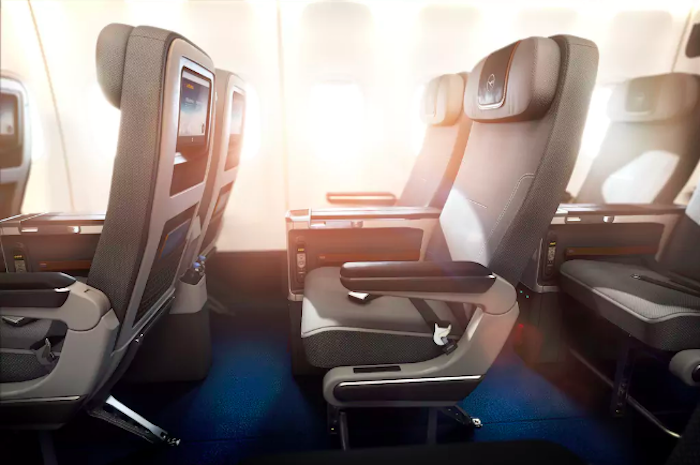 Here's how this is described:
Our cabin isn't in the woods, but in the sky! Personal food and beverage service at 910km/h.
Multimedia entertainment is included in our Lufthansa Premium Economy Seat from Frankfurt to NYC and WiFi is available. Includes return flight.
Then here are the basic terms for these tickets:
– This is a booking of a Premium Economy Seat on a Lufthansa flight from Frankfurt, Germany, to New York City, USA.
– You can book this wonderful seat within the following travel period 08.23.2016 – 12.15.2016. The booking is non-refundable but can be altered for a fee.
– You can drop off 2 pieces of luggage.
– Feeder flights are not part of the deal.
– Minimum stay is 4 days.
– You cannot stay longer than 1 month.
– The Deutsche Lufthansa AG pays the host charges of 3%. The AirBnB charges will be payed by you.
– This flight cannot be cancelled.
– After a booking request, the Lufthansa Call Center will try 3 times to reach you via telephone. After that, they will send you an email. The Call Center will call you within 2 hrs after requesting the booking. This will be within their opening hours between 08:00 and 22:00 h CET.
As you can see, this is intended for the German market, since it's only valid for tickets from Frankfurt to New York. The ticket is valid for travel between August 23 and December 15, 2016, there's a minimum of a four day stay required, and a maximum of a one month stay.
The promotion doesn't talk about whether you earn miles or what availability looks like.
As a point of comparison, the absolute cheapest premium economy fare I see on Lufthansa during the promotion period is 934EUR, so the savings are substantial, though not that amazing.
It seems like many airlines that recently installed premium economy are having a tough time selling the product, so I suspect this type of promotion is more about marketing than it is about selling seats, since selling an airline seat on Airbnb will get people talking.
I do question them referring to this seat as a "couch" as the type of accommodation, though for the purposes of Airbnb I guess that's as close to accurate as they can be.
Bottom line
Kudos to Lufthansa for their creativity here. This is a brilliant marketing technique, as it's the first time we've seen an airline sell a seat on Airbnb (at least as far as I know).
Anyone considering taking advantage of this Lufthansa Airbnb offer?
(Tip of the hat to Daniel)