After flying from Hong Kong to Seoul Incheon in Korean Air's A330 first class, it was time to connect from Incheon to San Francisco in Korean Air's 787-9 first class. While the A330 and 787 have different configurations, the planes have something in common — both planes have the same seats in business class and first class.
Korean Air has Apex Suites in business class on the 787-9, which is my favorite generic business class seat out there.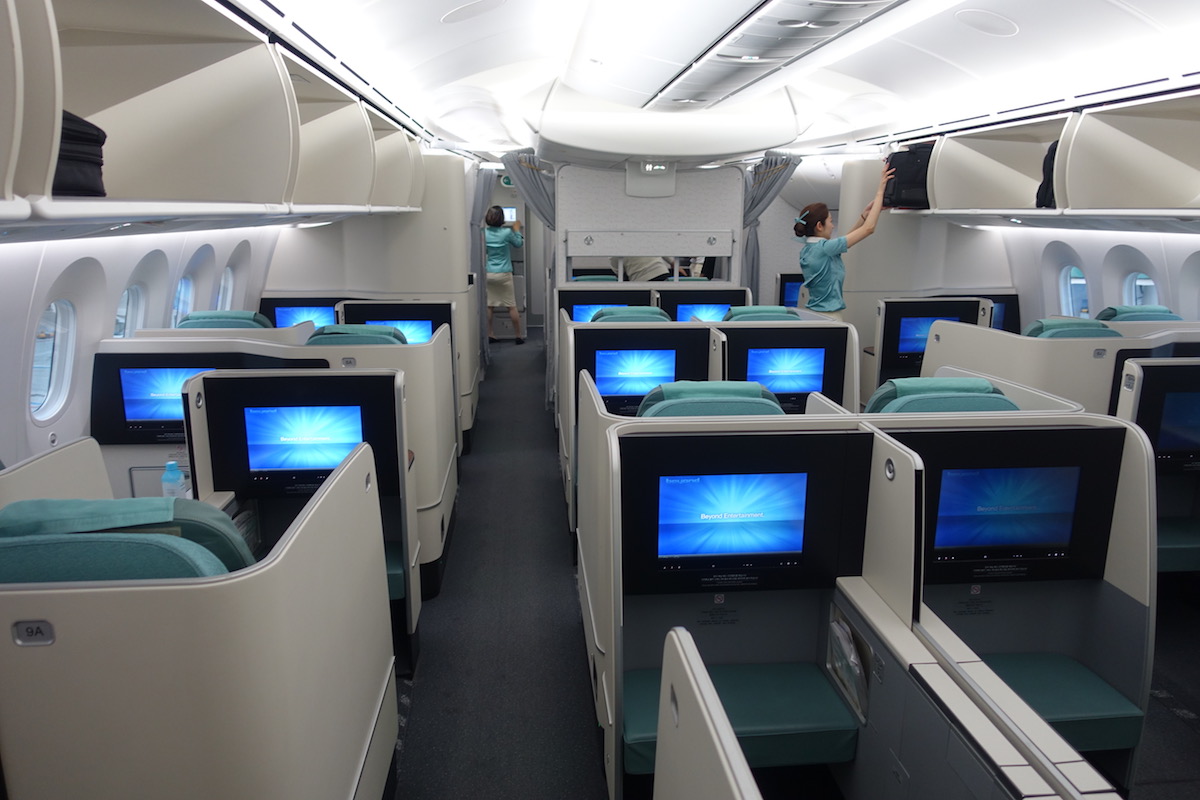 But they also have exactly the same seats in first class. There's one row of first class seats, in a 2-2-2 configuration. In these Apex Suite configurations, the window seats are by far the best, given how much privacy they have, as you can raise the divider between seats.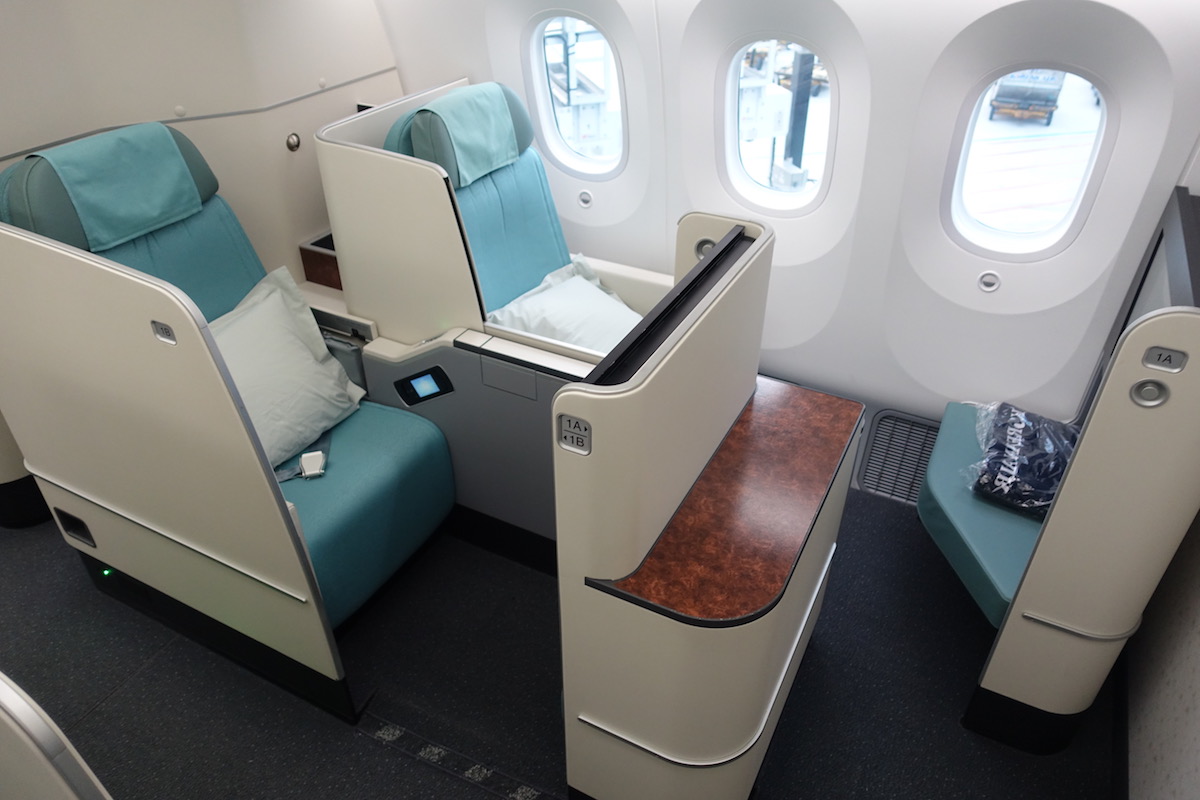 Of course it's disappointing to only get a business class seat in first class. However, in this particular instance I really loved this seat. There was only one other passenger in first class, so I had the whole side of the cabin to myself, and I could use the tray table on the seat next to me to store things. Also, in bed mode this seat is exceptionally private and comfortable (especially since Korean Air has better bedding in first class), and I got nearly seven hours of sleep. I woke up so well rested that I had a hard time sleeping my first night back in the US.
Also, as usual, Korean Air's first class soft product was very good. There were comfortable pajamas and an amenity kit that was pretty well stocked.
The meal service was over the top. The flight departed at 8PM and landed at 3PM, so dinner was served after takeoff, followed by breakfast before landing. Dinner started with canapés, and was followed by a caviar service. This was my first time ever being offered caviar in Korean first class, so I'm not sure if that's new, or if only certain longhaul flights feature this.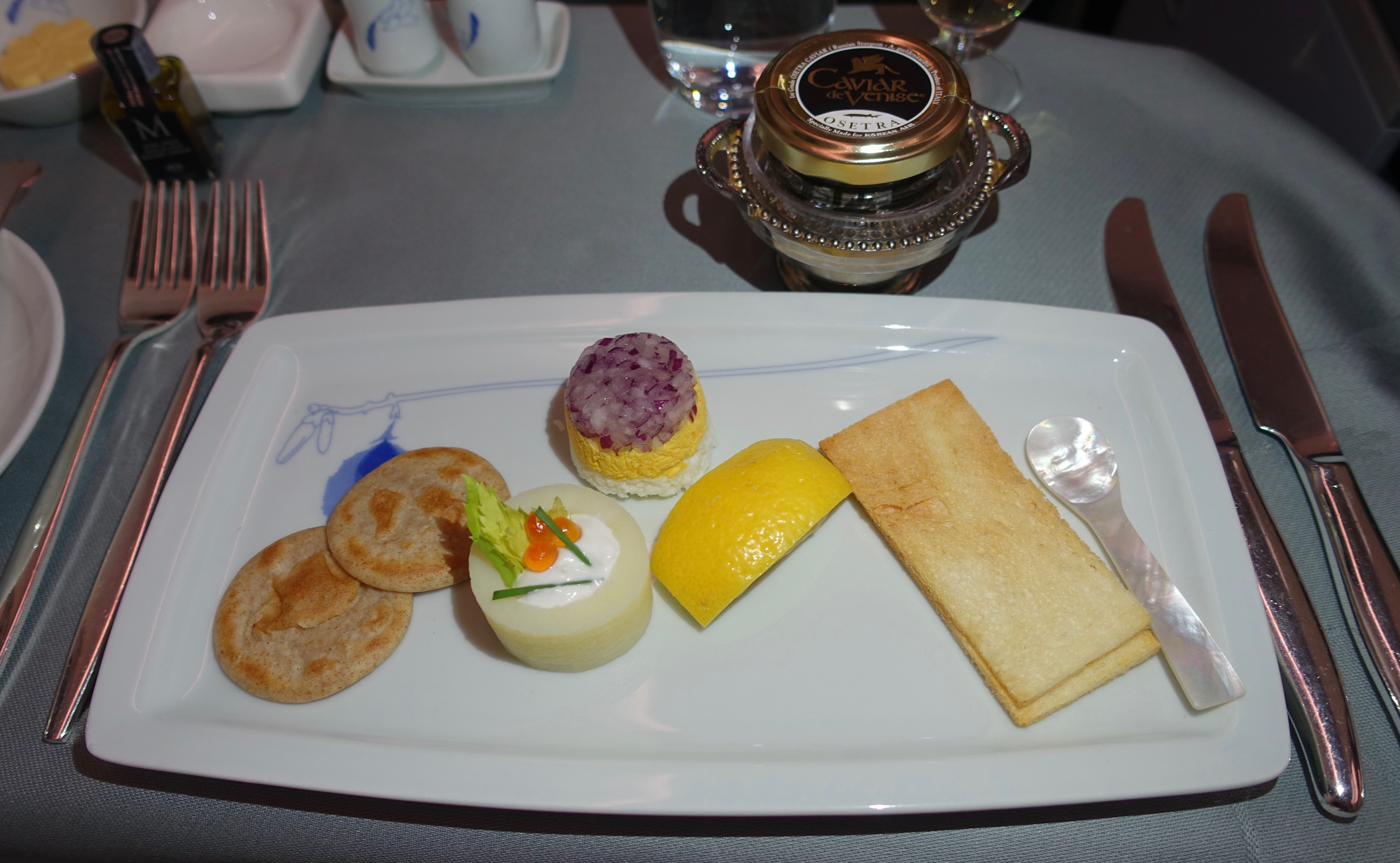 Then there was an excellent soup, and that was followed by a salad. I love Korean Air's salads, as they plate them right at your seat.
For the main course I ordered the roasted chicken breast, which was the safe/boring option, but was good.
Next up there was a selection of cheese and fruit, which I passed on, since I was so full.
I did save a bit of room for the dessert, which consisted of raspberry white chocolate mousse cake with ice cream.
I can't say enough good things about the two flight attendants working first class. The other first class passenger slept almost the whole way, so I basically had them taking care of just me. The flight attendants were reserved, yet professional, attentive, and kind.
Getting so much sleep on a 10 hour flight is great, and I woke up in San Francisco feeling very well rested.
Bottom line
It's odd that Korean Air installs the same seats in first and business class on their 787s and A330s. In these particular circumstances, though, I found this to be an excellent product. I wouldn't have felt that way if the cabin were full, and if I weren't in one of the window seats, but having a nearly empty cabin (and therefore having the flight attendants turn lights on and off based on when I was awake) was awesome.
Add in the great soft product, and I ended up being more impressed by the overall experience than I was expecting.
Would I have been happy if I paid a huge cash premium for this, and/or if the cabin were full? Probably not. But redeeming an extra 17,500 miles over the business class cost for a mostly empty cabin with excellent service was well worth it. For those looking for the true first class experience, though, I recommend booking a Korean Air 747-8 or 777-300ER (though only select 777s feature their new first class).
In the past I've called British Airways first class the world's best business class. That's definitely not true anymore — Korean Air's 787 first class is the world's best business class, in my opinion.