Japan Airlines has just announced some operational changes. I'll cover the others in a separate post, but want to first talk about what I consider to be the most exciting, which is that Japan Airlines will be operating 777-300ER service between Tokyo Narita and Sydney starting this December.
This is a route ordinarily operated by a 777-200ER, which just features a business class cabin with angled seats as the top cabin.
From December 1, 2014, through March 28, 2015, Japan Airlines will offer 777-300ER service most days between Tokyo Narita and Sydney.
This is exciting for a couple of reasons:
The 777-300ER features Japan Airlines' fantastic new first & business class products, which are a huge upgrade over what they offer on the 777-200ER
Japan Airlines has eight first class seats on their 777-300ERs, and they're making four of those first class award seats available for all the dates that I checked — that's fantastic news if you're looking to go to Australia over peak season!
This is a similar situation to when Japan Airlines announced 777-300ER service between San Francisco and Tokyo Haneda, and made first class award space available on every flight.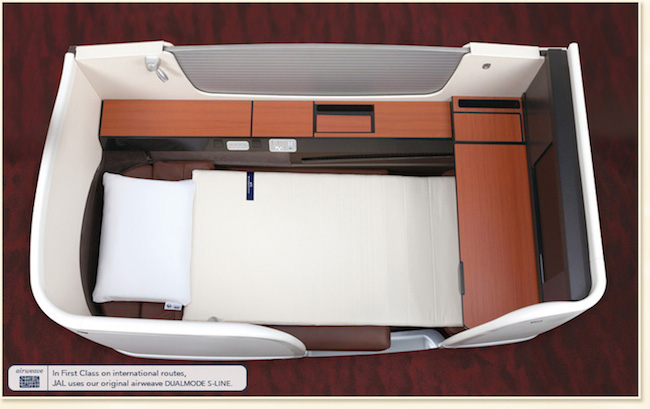 Japan Airlines new first class

Japan Airlines new business class
As I mentioned above, award space is fantastic, with most flights having four first class award seats, both from Tokyo to Sydney:
And from Sydney to Tokyo:
In terms of redeeming miles for this flight:
American charges 60,000 miles for one-way first class between Tokyo and Sydney (they don't let you route from the US to Australia via Asia, so that would require two awards).
US Airways charges 140,000 miles for roundtrip first class between the US and Sydney, and will generally let you route via Tokyo. That being said, as is usually the case with US Airways, your mileage may vary. Otherwise US Airways charges 120,000 miles for roundtrip travel between Tokyo and Sydney.
Act fast if you want to take advantage of these though, as I don't anticipate space sticking around given that this is such a difficult time for award travel to Australia.