The Ritz Carlton Signature Visa presently has a sign-up offer for 70,000 Ritz Carlton Rewards points after the first purchase and the $395 annual fee waived for the first year. Now, the offer does seem to be targeted at Ritz Carlton Residences owners, though at no point in the application process does it ask for verification, and those that have applied are reporting it went smoothly.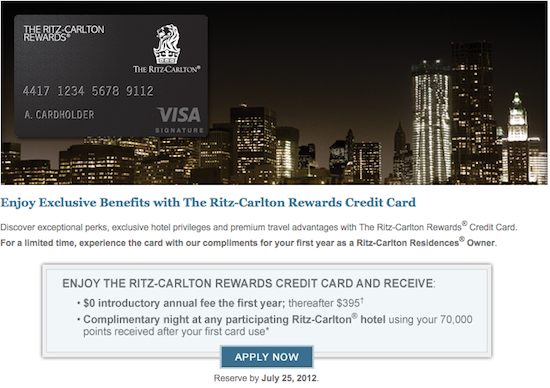 The normal sign-up bonus on this card is 50,000 points and the annual fee isn't usually waived the first year, so this is a great sign-up bonus.
As far as their award chart goes, this sign-up bonus is enough for two nights at "low tier" Ritz Carlton (if that's not an oxymoron), or enough for one night at their top tier hotels.
I've actually been tempted by this card for a long time. The earnings ratio is as follows:
Earn 5 Ritz-Carlton Rewards points per $1 spent at The Ritz-Carlton hotels. *
Earn 2 Ritz-Carlton Rewards points per $1 spent on airline tickets purchased directly with the airline, and at car rental agencies and restaurants. *
Earn 1 Ritz-Carlton Rewards point per $1 spent on all other card purchases. *
That doesn't really tempt me since a Ritz Carlton Rewards point is worth as much as a Marriott Rewards point, and I recently valued those at 1.0 cent each. So for everyday spend I can't see myself actually keeping the card.
But it's the other benefits that make this card worthwhile, in my opinion, and in many circumstances even justify the $395 annual fee:
Upgrade to The Ritz-Carlton Club® Level three times annually on stays of up to seven nights, subject to availability at time of reservation. Advanced reservations and e-certificate are required. *
This is hugely valuable. Ritz Carlton doesn't ordinarily upgrade to the club level (even if booking through Virtuoso or Fine Hotels & Resorts), so being able to confirm a club level room three times a year is a great benefit. The downside is that apparently this can't be booked in conjunction with a Virtuoso or Fine Hotels & Resorts rate.
Automatic Gold Elite status* in The Ritz-Carlton Rewards program your first year.
While it's not the most valuable elite status in the world, it does get you room upgrades, free internet, and bonus points.
Extra Hotel Experience with each two-night stay or longer at a Ritz-Carlton hotel. Celebrate with a $100 Hotel Credit to be used toward your choice of dining, spa or other hotel recreational activities when reserving this offer. *
When I first read about this card I thought this was a hugely valuable benefit, though apparently it's not valid in conjunction with a Virtuoso or Fine Hotels & Resorts rate. That being said, if you can confirm a club room and get the $100 hotel credit on a reservation, I'd say that's a pretty great value.
Complimentary airport lounge access*
The airport lounge access benefit is offered through Lounge Club, so you can find the participating lounges here. Unfortunately it doesn't include many of the major lounges, but rather mostly independent lounges (along with Alaska's Board Room).
$200 annual credit for airline incidentals*
Unlike with the American Express Platinum card, this is valid on all carriers, though I suspect they may have a less liberal interpretation of what constitutes a "fee" than American Express does.
Anyway, if you've been eying the card, this really is a compelling offer. Especially with the increased sign-up bonus, lack of minimum spend required, and first year fee waived. I just wish it weren't a Chase card, since there are a few other Chase cards I'm considering as well.