I just received the following email from Hyatt:
Dear Ben,

We're so happy to have you as a Hyatt Gold Passport Diamond member and Hyatt Credit Cardmember. That's why we're giving you 1,000 Hyatt Gold Passport bonus points.

It's easy to get your gift, simply accept it by clicking the button below. There's nothing else you need to do to enjoy your points. They will appear in your account 30 days after you accept them. Just be sure to claim your gift before January 31, 2015 – it's a thousand thanks from us to you.*
For what it's worth, here's the URL:
http://e.hyatt.com/a/hBUfiFOB8hHSgB89jL4AAUOisQw/gpgift?MBR_ACCT=__________&MARKETING_CODE=CHSECMTYT1EM14&RECIPIENT_ID=G-__________&TERRITORY_EMAIL_VERSION=NA
Just enter your Gold Passport number in the area where I presently have the "__________" to see if you're eligible.
I just had to click the link (my Gold Passport information was already auto-populated), at which point I was brought to a confirmation page: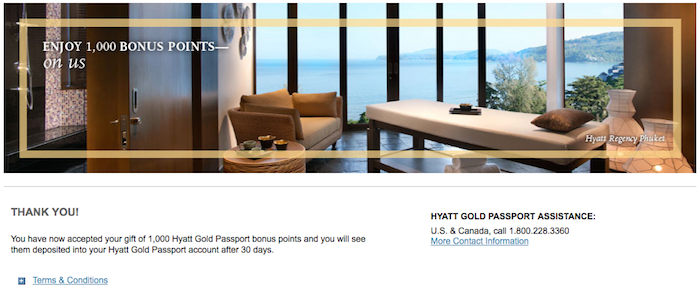 I love me some free points! The email thanks me for being a Diamond member and for having their co-branded credit card, though I'm not sure if they're offering the same to those that are just Diamond, those that just have to co-branded credit card, etc.
Did you receive a similar email from Hyatt, and if so, what's your status and do you have their credit card?