Garuda Indonesia is known for having one of the world's best first class products. For those of us who are miles & points junkies, unfortunately it's also one of the more unattainable products on miles, given that the only way to redeem miles for their first class is directly through Garuda's program, and it isn't cheap.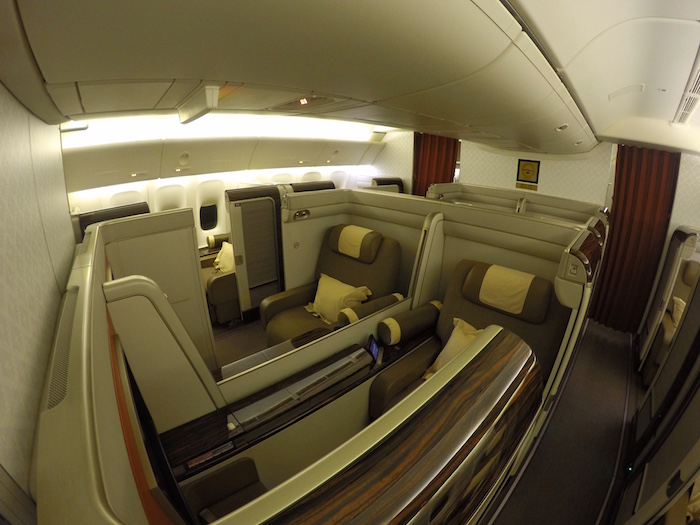 Garuda Indonesia first class, per my friend @kellydaoud
So I'm always on the lookout for cheap Garuda first class fares, as I'd love to review their product (a while back Nick reviewed the product between Amsterdam and London, though that route has been discontinued).
A bit over a month ago I posted about the cheapest roundtrip first class fare I've ever seen on Garuda Indonesia — you could fly roundtrip first class from Jakarta to Europe for ~$3,480.
Well, at the moment Garuda Indonesia has a Black Friday sale for travel originating in London, and some of the fares are incredible.
The fares are valid for bookings through November 30, 2016, for travel through June 30, 2017. Here's an example of some of these amazing fares:
London to Jakarta in roundtrip business class for 1,111GBP (~$1,387)
London to Singapore in roundtrip business class for 1,111GBP (~$1,387)
London to Jakarta in roundtrip first class for 2,015GBP (~$2,515)
London to Singapore in roundtrip first class for 2,369GBP (~$2,957)
London to Melbourne in roundtrip business class for 1,111GBP (~$1,387)
These fares are just unbelievably amazing. Business class from London to Australia for under $1,400 roundtrip? That's unheard of.
Personally I'm most excited about the prospect of flying Garuda Indonesia first class from London to Jakarta roundtrip for ~$2,500. What an amazing deal!
Here's a sample itinerary:
There's even a decent one-way fare from London to Jakarta in first class, as it costs 1,230GBP:
Availability for these fares is excellent across the board.
I plan on booking one of these tickets myself. You guys have been asking for a Garuda Indonesia first class review for a long time, and at this fare I really can't say no. I had considered taking advantage of the previous "best" fare I saw, but this one is $1,000 cheaper roundtrip.
Anyone planning on snagging one of these fantastic Garuda Indonesia premium cabin fares?