Oh, Club Carlson…
While I'm fine with programs devaluing as long as they give advance notice, I think someone at Club Carlson needs to learn the concept of not writing checks they can't cash.
Club Carlson's credit card devaluation
Back in early April, Club Carlson announced a huge devaluation to their US co-branded credit.
The single biggest perk of the credit card was that the second night of every award redemption was free for as long as you had the co-branded credit card. That was basically a "buy one get one free" offer on awards as long as you have their co-branded credit card.
They announced that benefit would be discontinued as of June 1, 2015. Instead they replaced the benefit with an annual free night when you spend $10,000 on the card in a year. That's a pretty crappy replacement, if you ask me. That was a huge devaluation to those with the card, though ultimately I couldn't really fault them for it:
It was extremely generous, and over time we shouldn't expect "sweet spots" to stick around
The card is still quite competitive, given that it offers 40,000 points upon your account anniversary each year, plus Club Carlson Gold status for as long as you have the card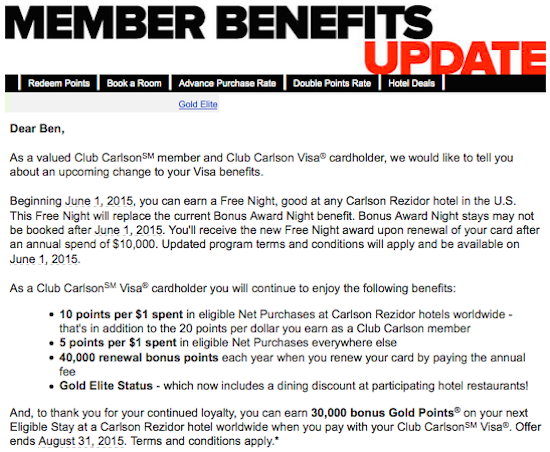 Club Carlson award chart devaluation
For many US based members, the value of Club Carlson Gold Points was halved with the last announcement. But that's just the beginning. Club Carlson has just announced their 2015 hotel category changes, which kick in for bookings made as of June 1, 2015.
Through these adjustments we're seeing about 330 properties change categories — 200+ are going up in price, while 100+ are going down in price.
The worst changes are on the high end. Early last year Club Carlson introduced Category 7 hotels, which go for 70,000 points per night. When they were introduced, there were fewer than a dozen properties in that category.
With these changes, however, there will be 65+ Category 7 properties. They're literally going from 11 to 68 properties in that category. And that's not a small increase in cost — Category 7 is 40% more expensive than Category 6, and ~60% more expensive than Category 5.
And you know how we know these changes are BS? Most of these new Category 7 properties are in Europe, despite the falling value of the Euro. So while other chains lower the number of points required for a free night in Europe, Club Carlson is increasing the cost.
Putting these changes into perspective
Previously if you had Club Carlson's co-branded credit card you could book just about any hotel in Europe for 50,000 points per night, and you'd get the second night free. That's a rate of 25,000 points per night, when staying in two night increments.
Now many of those "good" hotels we were redeeming at will cost 70,000 points per night, and there won't be a second night free. So for many of our redemption patterns, the cost of free nights is just about tripling.

The Radisson Blu 1919 Reykjavik is one of the new Category 7 hotels
Again, I'm all for programs having the right to make changes, even if they're drastic ones, but this isn't the way you do it. Club Carlson has been printing points nonstop and offering the most lucrative imaginable promotions, only to turn around and almost exponentially decrease the value of many members' points.
Bottom line
These changes don't surprise me. "If it sounds too good to be true, it probably is." And from the perspective of a US member, Club Carlson has been too good for too long. Ultimately that's a horrible way to manage a loyalty program, though as smart consumers we shouldn't be surprised.
I feel especially sorry for the non-US based members, who never had the ability to take advantage of the second night free benefit, and are also experiencing a huge devaluation with their points. I guess now us US-based members know how they've felt all along.
Anyway, keep in mind these changes only kick in for bookings made as of June 1, 2015, so if you have the chance to make Club Carlson travel plans, now is the time to do so…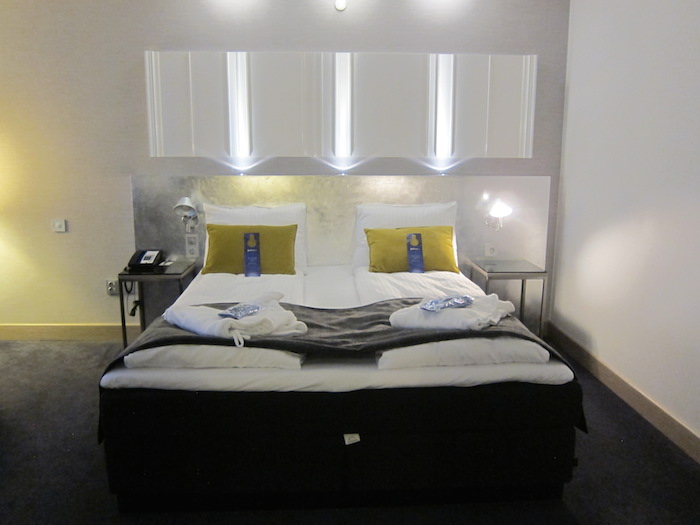 What do you make of these Club Carlson program changes?