One of the best uses of British Airways Avios is for short-haul travel on American. That's because British Airways Executive Club has a distance based award chart, so the best values on the chart are for short-haul travel, and there are no carrier imposed surcharges for short-haul travel on American.
As a reminder, you'll pay the following number of Avios for one-way economy short-haul awards:
Segments of 1-1,150 miles cost 7,500 Avios
Segments of 1,151-2,000 miles cost 10,000 Avios
Segments of 2,000-3,000 miles cost 12,500 Avios
However, this great value is less useful than in the past, given American's lack of saver level award availability on their flights.
Nonetheless there's still some space. The bad news is that at the moment British Airways' website isn't displaying any American award space. This is true regardless of which route you're looking at. For example, take the below flights between Los Angeles and San Francisco, where saver level award availability is actually pretty decent.
Meanwhile British Airways' website shows nothing.
Unfortunately the same issue seems to apply by phone, and British Airways phone representatives can't see the space either, so the blocking seems to be occurring no matter how you try to book.
This isn't the first time that British Airways' website has had such a glitch. Back in 2015 there was a similar glitch, which ended up lasting for several weeks.
Some might assume that the timing is a bit too convenient, and that it's related to the 40% transfer bonus from Amex Membership Rewards to Avios.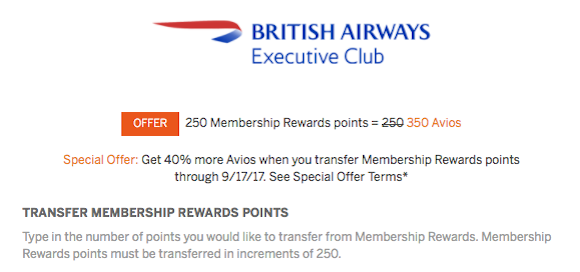 Personally I don't necessarily think that's the case, and would give British Airways the benefit of the doubt on this one (and it's not often I do that). 😉
For other good uses of British Airways Avios, see Tiffany's post from yesterday.
I'll post again if I have an update on the situation.
(Tip of the hat to The Points Guy)