In the interest of full disclosure, One Mile At A Time earns a referral bonus for anyone that's approved through some of the below links. These are the best publicly available offers that we have found for each card. Please check out our advertiser policy for further details about the partners we work with. Thanks for your support!
Update: These offers for The Business Platinum® Card from American Express and The Business Gold Rewards Card from American Express have expired. Learn more about the current offers here.
---
Amex has several limited time increased welcome bonuses on their business cards at the moment, two of the most compelling of which are on The Business Gold Rewards Card from American Express OPEN and The Business Platinum® Card from American Express. In this post I figured I'd look at the difference in offers on the two cards, and who should be considering which card.
Given that both cards have different strong points, I figured I'd compare the welcome bonuses, annual fees, return on spend, benefits, and approval odds:
Comparing welcome bonuses & annual fees
The Amex Business Gold Rewards Card is offering a sign-up bonus of 50,000 Membership Rewards points after spending $5,000 within three months; the $175 annual fee is waived for the first year
The Amex Business Platinum Card is offering a welcome bonus of up to 100,000 Membership Rewards points — 50,000 points after spending $10,000 within three months, plus an additional 50,000 points after spending an additional $15,000 within three months; $450 annual fee
Do keep in mind that the bonuses on all Amex cards are "once in a lifetime" now.
Winner: The welcome bonus on the Platinum Card is superior, though also requires greater spend to earn.
Comparing return on spend
Both of these cards offer different rewards structure. On the surface, the Amex Business Gold Rewards Card has an all around more compelling rewards structure. The card offers bonus points in the following five categories:
Airfare purchased directly from airlines
U.S. purchases for advertising in select media
U.S. purchases at gas stations
U.S. purchases for shipping
U.S. computer hardware, software, and cloud computing purchases made directly from select providers
You can pick in which category you want to earn 3x points, and then in the other four categories you earn 2x points. For each individual category you can earn 2x or 3x points for at most $100,000 in purchases per year.
The Amex Business Platinum Card, despite the higher annual fee, doesn't offer any bonus categories. The main benefit on spend it offers is a 50% points bonus for purchases of over $5,000, up to a maximum of a million bonus points per year. In other words, for big purchases you can earn 1.5 Membership Rewards points per dollar spent, which is on par with the return offered on The Amex EveryDay® Preferred Credit Card from American Express (except it offers 1.5x points per dollar spent when you make at least 30 transactions per billing cycle).
Winner: For most, the return on spend offered on the Gold Card will be superior, given the five bonus categories. However, the 50% bonus on points is nice if you own a business that consistently makes very large purchases.
Comparing benefits
While the Amex Business Gold Rewards Card shines when it comes to return on spend, the Amex Business Platinum Card shines when it comes to the perks it offers, which include the following:
If you apply for the Business Platinum Card now you could in theory still get the $200 airline fee credit for this year, and then starting January 1 you'd get another one, meaning you'd potentially get $400 of value out of that within the first year.
Many will also value access to Delta SkyClubs and Centurion Lounges, both of which are among the best lounges in the U.S.
Winner: The Business Platinum Card offers significantly more benefits, though also has a higher annual fee. Still, I tend to think the annual fee more than justifies the benefits.
The one other MAJOR consideration
There's a reason to get the Amex Business Platinum Card that goes beyond the direct perks of the card or the sign-up bonus. Specifically, just for having the Business Platinum Card you receive a 35% refund on points when using Membership Rewards Pay with Points to book a flight with your selected airline, or when booking a flight in first or business class on any airline.
Essentially this means you can get up to 1.35 cents of value per Amex point, which is very good. Best of all, you can combine all your Amex Membership Rewards points at this rate, meaning that having this card increases the value of all your Amex points. This is an incredible opportunity, and this alone is a reason to get this card, since it increases the value of all your points overnight.
For more on this benefit, see my post about combining Amex Membership Rewards points to maximize their value, and my post about how you can use this benefit to get cheap first & business class tickets.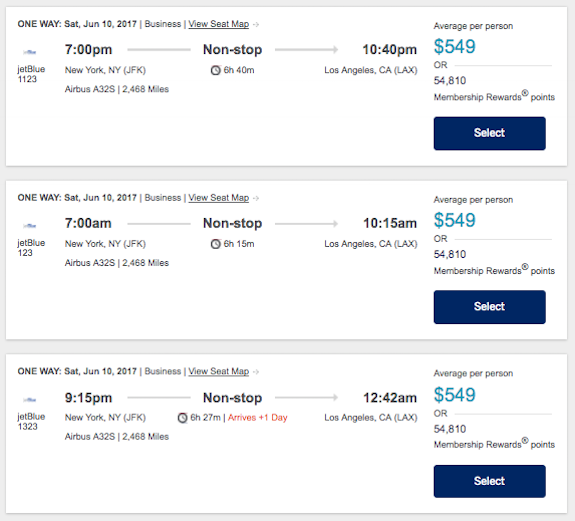 Comparing approval odds
Some issuers make it difficult for small businesses to get a line of credit with them, though I find that Amex is among the best issuers when it comes to approving people for a small business card, even if their business is still fairly new.
Earlier in the year I shared Ford's experience getting approved for an Amex small business card as a sole proprietorship with limited business come. He had no issues, and these cards should be no different; both should be quite easy to get approved for, especially given that they're charge cards and not credit cards.
Also keep in mind that anecdotally applying for Amex small business cards doesn't count towards the Chase 5/24 limit.

Winner: This is a draw. Most people should have no issues being approved for either of these cards, as Amex is among the best about approving people for small business cards.
Bottom line
The welcome bonuses on both the Amex Business Gold Rewards Card and Amex Business Platinum Card are compelling, among the best we've publicly seen.
The Business Gold Card offers a great welcome bonus with the annual fee waived the first year, along with bonus points in several categories long term, making this a card that could be worth holding onto.
Meanwhile the Amex Business Platinum Card isn't quite as rewarding in terms of everyday spend, though is worth applying for and holding onto. That's because of the welcome bonus of up to 100,000 points, the perks that I find more than justify the annual fee, and the icing on the cake, which is the 35% rebate on all Pay with Points redemption, which is one of the best perks offered by any card. Furthermore, if you apply in the next few days you should still be able to get your 2016 airline fee credit, and then you'd get another one as of January 2017.
---
Non-Affiliate Product Disclaimer: The information for the AmEx Everyday Preferred has been collected independently by One Mile At A Time. The card details on this page have not been reviewed or provided by the card issuer.