Link: Uber $20 New Member Bonus
Uber has become my "go to" service for ground transportation, and I use them almost everywhere I travel. For those of you not familiar with Uber, they're an on demand car service whereby you use their app to request a car, and one will show up (usually) within minutes. They can see your location and you can see their location. Best of all there's no cash with the transaction, and you're automatically charged through Uber based on the credit card you have on file (be sure to link your Chase Sapphire Preferred Card to earn double points). Tip is even included in what you're charged.
They also have a couple of different services, including Uber Black, which is a black car service, and UberX, which is often cheaper than a taxi. Anyway, I think one of the things that makes Uber so great is that you can provide instant feedback, whereby when you're done with your ride you rate your driver between one and five stars (and for that matter, they rate you as well, something a lot of people don't realize). It really is amazing how much better service is when there's an instant feedback loop.
Anyway, Uber ordinarily offers a $10 referral credit, whereby if you refer a new member both the person referring and the person being referred get a $10 credit. To kick off the new year Uber has doubled that referral bonus through January 20, 2014, and now both the person referring and the person being referred get a $20 credit. So if you're an Uber member start referring your friends, and if you're not yet an Uber member be sure to sign up. You can sign up using my referral link (I'm of course very appreciative of your support), or feel free to post your referral link in the comments section below and someone can use that.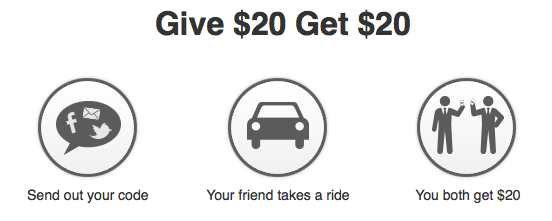 On top of that, Groupon is selling $25 of Uber credit for $5, though this is valid for new members only. The terms on that read as follows:
Expires 120 days after purchase. Limit 1 per person. Limit 1 redemption code per Uber account. Online registration required. New clients only. May redeem across rides. Valid only within select service area. Cannot be combined with any other new Uber rider offer. Valid towards UberX, UberTaxi, UberBlack, and UberSUV. Merchant is solely responsible to purchasers for the care and quality of the advertised goods and services. See the rules that apply to all deals.
Anyway, lots of value to be had here if you're not yet an Uber member!