We've seen a lot of news of loyalty program accounts being hacked lately, and it looks like some programs are looking to do something about that.
A while back Hilton HHonors added a CAPTCHA when trying to log into your HHonors account. While annoying, it does add a layer of security which prevents hackers from easily running scripts to figure out your log-in info.
The downside of something like a CAPTHA (aside from the fact that I can barely ever make out the images) is that it means you can't easily update your account balances through programs like AwardWallet.
Well, it looks like Hilton may have a more permanent security solution, as they'll soon be replacing PINs with passwords (and hopefully eliminating CAPTCHA).
If you change your password by March 8, 2015, you can receive 1,000 HHonors bonus points as a thank you:
Today, to ensure maximum security, Hilton announced that the login process for all Hilton HHonors members is being updated. PIN numbers will no longer be accepted and members will have until March 25, 2015, to create a new password or update their existing password. Members that update their password between February 19 and by March 8, 2015, will be awarded 1,000 Bonus Points as a thank you.

This update will continue to protect the privacy of HHonors members while also allowing Hilton to make accounts more secure as the hospitality industry and loyalty programs are seeing an increased number of security incidents. While we know this is an added measure for our HHonors members, it will help us ensure their accounts are more secure.
To change your password simply log into your Hilton HHonors account. Then at the bottom left of the page click on "Personal Information."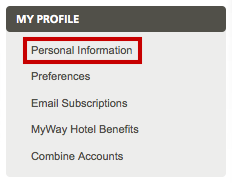 Then on the next page click on "Change Password" to update your password.
It's that easy!